Geoff Burton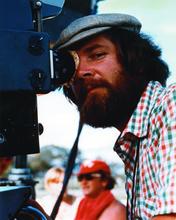 Geoff Burton ACS began his professional career in 1963 as a Film Trainee at the ABC in Sydney. He graduated in cinematography and after an enforced stint in the Australian Army, Burton moved to Britain and worked for the BBC, mostly on their mammoth Time-Life co-production, The British Empire. On its completion he re-located to Geneva and from there free-lanced as a documentary director/cinematographer.
In 1972 Burton returned to Australia working as a Director of Photography, director, writer or producer on over 50 films. His credits in various roles include SUNDAY TOO FAR AWAY, STORM BOY, A STREET TO DIE, THE YEAR MY VOICE BROKE, FLIRTING, SIRENS, BEDEVIL, THE SUM OF US, AFTERSHOCKS, FLIGHT OVER THE EQUATOR, THE ACTOR AND THE PRESIDENT, AUSTRALIANS AT WAR and THE FALL OF THE HOUSE.
Whilst remaining a strong advocate for the maintenance of a national Australian cinema, Burton has worked extensively overseas, particularly in South East Asia, his preferred part of the world. The production company that Burton set up with his partner Sharon Bell in 1975 continues to develop and produce documentary films in Asia and Australia.
Film education and gender equality within the film and television industries have been strongly supported by Burton throughout his career including heading the Cinematography Department at AFTRS for several years. He delights in the successes currently being achieved by former students and crew members as the new creative cohort of Australian cinematographers make their mark.
These days he is mostly found on the family vineyard near Canberra where he continues to pursue the perfect Shiraz for the Gundog Estate wine label.
Filmography
| | |
| --- | --- |
| | AFTERSHOCKS is a film examining the experiences of eleven people who were in the Newcastle Workers' Club at the time of a serious earthquake in December 1989... |