Adrian Herring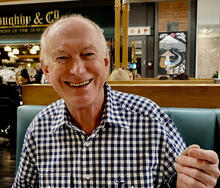 Adrian Herring has made scores of half-hour or one-hour documentary and current affairs feature programmes for broadcast television networks around the world; and has produced, directed or executive-produced hundreds of shorter reports and well over a thousand studio-based factual TV programs. He has also produced scores of videos for Australian Federal Government departments.
His career began after he graduated first from the University of Cape Town, then from London's Royal College of Art with an MA Degree in Film & Television. He then spent four years as a documentary Producer/Director in South Africa, at SABC-TV.
In 1979 he joined BBC-TV's Current Affairs department, based in Glasgow, where over several years he directed or field-produced a great number of half-hour or one-hour programs (location and studio) as well as several documentary films. In 1980 he was assigned to make 3 half-hour BBC reports in South Africa and the newly-independent Zimbabwe.
Three years later Herring directed the 6-part BBC2 network series The Stateless Nations, filmed across Europe. This series examined the new nationalism in certain European regions, such as the Basque Country, Corsica, Brittany and Catalonia. The series was sold to TV stations around the world, as was the BBC/UNHCR documentary Refugee (1982), presented by Peter Ustinov and directed by Herring. He left the BBC in 1987 for Australia, after directing episodes of the landmark BBC documentary series Scotland 2000, in which leading personalities from various walks of life expressed their personal vision for the new millennium.
In 1987 Herring joined Australia's ABC-TV, where for two years he produced and directed the daily current affairs program The 7.30 Report in Adelaide. Then, between 1989 and 1991 he worked in Singapore, as Consultant/Trainer to Reporter/Producers and Program Editors in SBC's TV Current Affairs and Documentaries division. (In 1996 he undertook a further three months occasional consultancy with SBC – by now named TCS, the Television Corporation of Singapore).
Following his return to Australia in 1991, and after lecturing at undergraduate level in Film and Television at the University of Canberra, Adrian Herring joined SBS-TV, Australia's multicultural broadcaster. He was the Executive Producer, previously Associate Producer, of SBS's long-running and respected international current affairs program Dateline. As well as working from the SBS studios, Herring travelled to Singapore and Papua New Guinea to produce interviews with the Prime Ministers there. He produced a report on Zimbabwe's 1995 elections and secured the only interview President Mugabe granted the world's media. In 1997 he was also Executive Producer of the network's coverage of the reversion of Hong Kong from Britain to China.
Leaving SBS after five and a half years to turn independent, Adrian lectured in MA International Communications at Macquarie University; and formed Journocam Productions. In 1998/99 Adrian co-produced an award-winning documentary Unfinished Business for Australia's ABC and South Africa's SABC. In 1999 he wrote & directed an episode of Channel 9's Our Century and lectured at the Australian Film, Television and Radio School. In 2000/01 he produced a 52min. documentary for SBS, Mr Strehlow's Films, about Australian anthropologist T.G.H. Strehlow. In December 2001 his Crime Night documentary, made in Singapore for Discovery Networks Asia, was screened.
In 2002 Adrian worked at the ABC as Program Development Officer; and in 2003 he completed an MA (Hons) International Relations degree at the Australian National University. Since then he has developed several documentaries; taught Journalism at TAFE and Video Production at the Canberra Institute of Technology; freelanced as line-up or foreign producer for ABC's Lateline and as supervising producer for the SBS Dateline program. From 2007 to 2018 Adrian was Senior Producer in Video Production, Communications Division, Australian Government Department of Human Services.
Filmography
| | |
| --- | --- |
| | T.G.H. (Ted) Strehlow was one of Australia's most eminent and controversial anthropologists. This fascinating documentary traces his life from his childhood at Hermannsburg as the son of Lutheran missionaries to his days as a patrol officer and translator in Central Australia, and to his death in 1978... |