Damien Guyula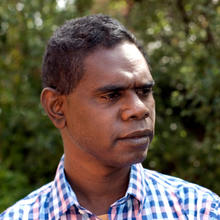 Damien is a member of the Djambarrpuyngu Liya-Dhalinymirr clan. He speaks Djambarrpuyngu, Ritharrngu, Ganalbingu and English. He was raised on the Mirringadja Homeland (which is closely associated with Donydji) where his father, a senior clansman, trained him in tribal lore.
Damien has worked as an Interpreter for the Aboriginal Interpreter Service, School Attendance Supervisor, Tutor and Cultural Advisor at the Gapuwiyak High School and Liaison Officer for Northern Territory Police.
He currently works as a Police Constable in Yarallin, 400kms south of Katherine.
Damien is the Donydji Homeland's representative on the production of Homeland Story.
Filmography
| | |
| --- | --- |
| | OFFICIAL SELECTION - Antenna Documentary Film Festival, Sydney FINALIST! ATOM AWARDS - Best Documentary: General Category SCREENINGS: See link below to download a helpful Guide for Community Screenings! Express interest in hosting a screening by contacting Ronin Films: admin@roninfilms... |