Sophia Turkiewicz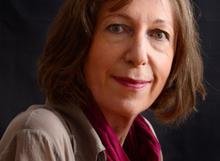 Born in a refugee camp in Northern Rhodesia (now Zambia), Sophia Turkiewicz arrived in Australia as a young child with her Polish-born mother, Helen. They came as part of the first wave of European immigrants to come to Australia after the Second World War. Sophia grew up in Adelaide, South Australia, where she completed an arts degree at Adelaide University and became a primary and high school teacher before being selected for the first intake of full-time students at the newly created Australian Film & TV School.
Since graduating in 1978 in Directing and Screenwriting Sophia has worked in the film and television industry as a freelance drama director. Her credits include the feature film Silver City, which was released internationally in 1984 and won 3 AFI awards, as well as Best Film at the 1984 Sydney Film Critics Awards. Her television work includes adult and children's drama (Something in the Air, Escape of the Artful Dodger), and telemovies (Time's Raging, I've Come About the Suicide). She spent six years as a lecturer in the Directing Department at the Australian Film Television and Radio School before leaving in 2008 to work on her own projects.
Sophia is married to art historian and author Stephen Scheding. They have one son.
Filmography
| | |
| --- | --- |
| | WINNER! United Nations Association of Australia Media Award (TV Documentary category), October 2015. Abandoned in an Adelaide orphanage at the age of seven, Sophia feels betrayed by her mother, Helen... |