SONS OF NAMATJIRA [from the AIATSIS Collection]
Year: 1975
Classification: Exempt - Ronin Recommends: G
Runtime: 47 min
Produced In: Australia
Directed By: Curtis Levy
Produced By: Curtis Levy
Language: English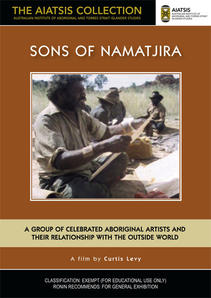 price includes GST and postage

"It's a striking and disturbing film, again, one that deserves a wider audience." (The Australian).
"Another excellent documentary, which hopefully might be shown on the ABC soon is 'Sons of Namatjira" (Four Corners, ABC).
"An excellent film... this documentary was sad also witty". (Sydney Morning Herald).
"This filmic approach avoids sentiment and self pity. But its effect is rather more likely to generate rage". (Canberra Times).
---
SONS OF NAMATJIRA examines the relationship between a community of Aboriginal artists and the outside world. Keith Namatjira is the son of the celebrated artist Albert Namatjira, and emulates his father's distinctive style. He lives with his family in the same camp that his father had established on the outskirts of Alice Springs in Central Australia.
One of Curtis Levy's finest documentaries, SONS OF NAMATJIRA, follows Keith and his wife, Isabel, and other relatives, in their interactions with the wider world including art galleries in town and bus-loads of middle-aged tourists from the big cities. The film highlights communication difficulties between black and white, and in Levy's terms, becomes "a parable of black-white relations in Australia".
Tourists and dealers drive out to the artists' camp to bargain with the artists in person. Keith feels pressured to accept their offers but dreams that one day he will own his own gallery, so that his family can make a decent living from their work. In addition, Keith has other pressures: he has to go to court on a charge of drink-driving, whilst at the same time working with a legal-aid officer on a claim for the land they are living on. He and his family are worried that their land will be swamped by the urban development they can see closing in around them.
This sympathetic portrait of a tiny community of Aboriginal artists is rich in Levy's characteristic humour and sense of irony. It was the last of Levy's films for AIAS before he returned to independent production, and remains one of the Film Unit's most widely seen works.
ADDITIONAL RESOURCE: the DVD includes an interview with director, Curtis Levy (recorded in July 2013), about the making of the film.
Produced and directed by Curtis Levy
Photography Geoff Burton
Sound Fred Pickering
Editor Stewart Young
An AIAS Film Unit production - 1975
English language (with some English subtitles)
Ronin Films wishes to advise Aboriginal and Torres Strait Islander people that this film may contain images and voices of deceased persons.