WHITE WATER, BLACK GOLD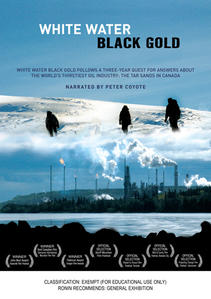 price includes GST and postage

The DVD has both the 57 minute and 83 minute version of the feature WHITE WATER, BLACK GOLD.
---
WHITE WATER, BLACK GOLD is a riveting, multi-award-winning Canadian documentary by indie filmmaker, David Lavellee, about the controversies surrounding the Alberta Tar Sands in western Canada. Martin Lukacs recently wrote in The Guardian: the Tar Sands of Alberta are "a source of oil so dirty that renowned ex-NASA climatologist James Hansen has described it as a 'carbon bomb' whose full exploitation would spell 'game over' for the climate".
The film includes much detail about the often over-looked effect of the Tar Sands' exploitation on the Canadian Indigenous peoples of the area.
The film follows David Lavallee on his three-year journey across western Canada in search of the truth about the impact of the world's thirstiest oil industry. This is a journey of jarring contrasts, from the pristine mountain ice fields that are the source of the industry's water, to the Tar Sands tailing ponds, where thousands of migrating birds have unwittingly landed and died.
Both government and industry spokespeople deny any cause for concern, but in the course of his journey Lavallee, backed by university scientists, makes a number of discoveries that challenge that assessment and raise serious concerns for Canada and the United States.
Native peoples living downstream are contracting unusual cancers; new science shows that water resources in an era of climate change will be increasingly scarce; the proposed upgrading of the oilfields could endanger multiple river systems across Canada that make up about half of its water supply; and a planned oil pipeline across British Columbia brings fresh threats to rivers, salmon and the Pacific Ocean.
WHITE WATER, BLACK GOLD is a sober look at the untold costs associated with developing this major oil deposit, and raises important questions about how much environmental damage we're willing to tolerate to feed our oil appetite.
---
WINNER Best Canadian Film, Vancouver International Mountain Film Festival
WINNER John Muir Award, Yosemite Film Festival
WINNER Platinum Award, Oregon Film Awards
OFFICIAL SELECTION Banff Mountain Film Festival
OFFICIAL SELECTION Planet in Focus Film Festival, Toronto
OFFICIAL SELECTION Wild & Scenic Film Festival, Nevada City
OFFICIAL SELECTION Projecting Change Film Festival, Vancouver
OFFICIAL SELECTION Durango Independent Film Festival
---
Follow this link to view the trailer: www.youtube.com/watch?v=EPiScQhecug