TUKANA
Year: 1983
Classification: PG
Runtime: 135 min
Produced In: Papua New Guinea
Directed By: Chris Owen, Albert Toro
Produced By: Chris Owen
Language: Tok Pisin, English subtitles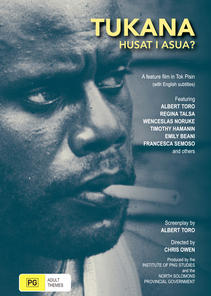 price includes GST and postage

'Tukana tells the story of a university dropout in Papua New Guinea returning to his native village in Buka Passage, North Solomons. His parents want Tukana to marry a school teacher, Josephine, and settle down. But he secretly slips away to Panguna and a driving job with Bougainville Copper. He takes up with Lucy, a high school student who drops out herself later on, and he also drinks long and hard. But he returns home to marry Josephine when his parents actually begin the bride price exchange and summon him.
Meanwhile Lucy has resumed an affair with another man, but her wantoks [relatives] favour marriage with Tukana and they organise sorcery against Josephine. In the climactic scene Josephine succumbs, and she is killed by a drunken hit-run truck driver. Tukana is left alone but he decides to drop back in and become a school teacher.' - Peter King, The Times of PNG.
---
The film's collaborator, Albert Toro, passed away in December 2019. The PNG National Film Institute posted this message on Facebook:
The National Film Institute mourns the sudden passing of PNG's greatest known filmmaker and actor ALBERT TORO, best known for the star role he played as Tukana in the movie he made with his good friend and brother, the late Chris Owen.
He has contributed immensely to the country's fledgling film industry. He has mentored many, assisted many and inspired a countless number of media nationals.
His creativity and his knack for getting things done the other way around is unique to him alone. He was even the first Papua New Guinean to register and own a Media Production Company after independence. Albert Toro was a friend to many. His contribution to the film industry will never be forgotten. His legacy lives on through every person he has mentored and inspired. His work will forever be appreciated but his shoes will never be filled. We will surely miss your presence on earth.
May his soul rest in eternal peace.
---
For an excellent article about Albert Toro and his contribution to TUKANA and to PNG's media and cultural life generally, see: postcourier.com.pg/albert-toro-aka-tukanas-last-act/
---