KIMBERLEY MOB, THE
Year: 1991
Classification: PG
Runtime: 54 min
Produced In: Australia
Directed By: Graham Chase
Produced By: Graeme Isaac
Language: Nyikina and English dialogue, English subtitles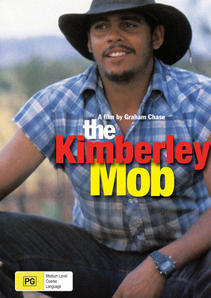 price includes GST and postage

Three Aboriginal brothers run a cattle station in the Kimberley. They face drought, divided tribal loyalties, government bureaucracy, diamond-mining companies and fundamentalist Christianity while trying to keep traditional Aboriginal beliefs and customs alive for their children and future generations.
For 100 years Aboriginal people were the backbone of a vast cattle industry in the Kimberley, based on their land and their slave labour. But when equal pay was introduced in the mid-1960s, most of the black stock workers lost their jobs, and they and their families were kicked off the stations to gravitate to the fringe camps of the white townships.
Since then many cattle stations in the Kimberley have gone bankrupt, partly through overgrazing and subsequent land degradation, partly through drought, and also through rising interest rates.
In the 1980s, a number of stations were bought back for Aboriginal communities with money from the Aboriginal Development Commission. One such station is Mt Anderson station, totally run-down when the Watsons returned to it but now being restored to its former productivity.