SOMETHING CLOSE TO HELL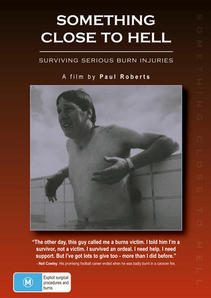 price includes GST and postage

Lorraine McArthur suffered burns to 75% of her body in a fuel fire. She spent ten months in hospital and, by comparison, feels childbirth is easy.
Neil Cowley, badly burnt in a caravan fire, remembers that the pain seemed to go on forever. It was Neil who described his experience as 'something close to hell' in the diary he began writing in hospital. Neil's diary narrates the recovery process and the different sorts of stress which burns survivors must face, and learn to accommodate.
The pain is much more than physical trauma. Burns survivors feel a sense of grief, of loss, for the person they once were. Apart from feelings of anger and depression, there is the additional fear of community reaction to any disfigurement. Serious crises can be experienced months, even years after discharge from hospital.
The film provides a systematic account of surgical procedures associated with skin grafting and gives voice to the hospital personnel involved in the recovery process.
---
"The other day, this guy called me a burns victim. I told him I'm a survivor, not a victim. I survived an ordeal. I need help. I need support. But I've got lots to give too - more than I did before." - Neil Cowley. His promising football career ended when he was badly burnt in a caravan fire.
---
"AN INSPIRING STORY OF SURVIVAL. If there is a universal law governing suffering, it is this:  that suffering cannot take away more than it gives. This is a law from Greek tragedy, from Shakespeare, from Dostoyevsky and from the lives of these survivors." - Sydney Morning Herald.