HUNGRY TIDE, THE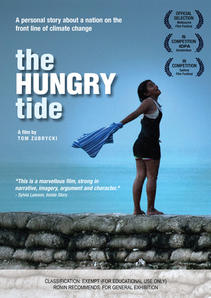 price includes GST and postage

A film about a nation on the front line of climate change: the central Pacific nation of Kiribati is one of the countries in the world most vulnerable to rising sea levels.
DVD includes 2 versions of the film: 53 mins abridged for television and 90 mins full unabridged version.
---
An average two metres above sea level, the central Pacific nation of Kiribati is one of the countries in the world most vulnerable to climate change. Sea level rise and increasing salinity are threatening the lives of 105,000 people spread over 33 atolls in this remote corner of the Pacific. It's the same ocean, which for generations has sustained the country, that is now the source of its destruction.
Maria Tiimon, a Kiribati woman living in Sydney, has the task of alerting the world to her sinking homeland. The documentary follows Maria from a small Sydney high school to the world stage. Shy at first, we watch her grow in confidence as she takes her country's message to the 2009 Copenhagen Climate Change Conference, and a year later to Cancun. Copenhagen ends in failure, and evidence emerges of Australia's complicity in silencing Pacific nations.
Right from the start, Maria struggles to find a balance between her personal life and her advocacy work. Her family back on the islands is increasingly dependent on her support, and there's a promising relationship with a young man her father's never met. Meanwhile back on Kiribati fragile sea walls are crumbling, and storm tides are sweeping into villages. The urbane President Tong says his county lacks the resources to fix these problems. The eventual relocation of his people is inevitable, he believes: "we have to assume the worst".
Suddenly one day Maria receives news that her beloved father is very ill. She must return home immediately. How will she balance the pressures from her needy family and at the same time take the urgent message of her sinking nation to the world?
VIEW TRAILER HERE: vimeo.com/431337745
---
"This is a marvellous film, strong in narrative, imagery, argument and character." - Sylvia Lawson, Inside Story.
---
Related files
Images