ALWAYS HAVE AND ALWAYS WILL [from the CAAMA Collection]
Year: 2006
Classification: Exempt - Ronin Recommends: G
Runtime: 24 min
Produced In: Australia
Directed By: Jason Ramp
Produced By: Jason Ramp
Language: English and Wirangu (with English subtitles)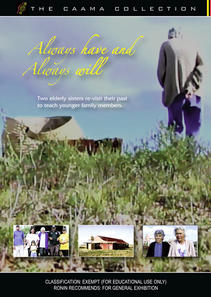 price includes GST and postage

This portrait of two feisty, strong-willed Elders, is a moving and beautifully filmed document of a vanishing way of life, with a strong message to respect the past, traditional culture and community values.
In the Nullabor desert, west from Ceduna in South Australia, two elderly sisters from the Tjilkaba community, Doreen and Gladys Miller, re-visit the now derelict homesteads and stations where they grew up and had worked, to pass on their stories to younger family members. They tell their "granny stories" to their daughters and grandchildren to teach them about the self-reliance they learned as young adults, and about the sustaining value of their traditional culture.
A group of young women and children join them on their often emotional journey into the past, as they visit the abandoned ruins of Whitewell homestead and the deserted Colona shearing station.
They also talk about the importance of keeping their Wirangu language and knowledge about the bush alive, and they help to make books for children to use in schools.
---
Writer / director - JASON RAMP
Editor - RISHI SHUKLA
Photography - JASON RAMP
Music - CRAIG TILMOUTH
Executive producer - RACHEL CLEMENTS