SHINE
Year: 1996
Classification: PG
Runtime: 107 min
Produced In: Australia
Directed By: Scott Hicks
Produced By: Jane Scott
Language: English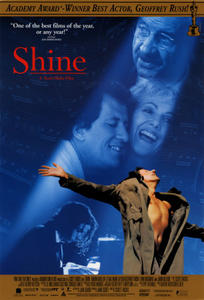 price includes GST and postage
The 1996 multi-award winning Australian film based on the life of pianist David Helfgott, who suffered a mental breakdown and spent years in institutions. Starring Geoffrey Rush, Lynn Redgrave, Armin Mueller-Stahl, Noah Taylor, John Gielgud, Googie Withers, Justin Braine, Sonia Todd, Chris Haywood and Alex Rafalowicz.
In 1996, one of the most celebrated and successful films of Australian cinema history was produced. SHINE swept the pool of local awards, winning nine AFI Awards. The following year SHINE became an international phenomenon scoring seven Oscar nominations, five Golden Globe nominations and nine BAFTA nominations amongst many other international awards. After Geoffrey Rush was awarded an Oscar, a Golden Globe and a BAFTA for Best Actor, his acting career was completely transformed.
SHINE is the true story of pianist David Helfgott, his turbulent relationship with his father, his breakdown and eventual redemption through the love of his wife, Gillian.
It is a story rich in music and emotion, produced by Jane Scott and directed by Scott Hicks with visual elegance from a brilliant screenplay by Jan Sardi. The cast, led by Geoffrey Rush as the adult David and Noah Taylor as the adolescent David, give career-best performances.
Now re-mastered digitally, SHINE is recapturing the imaginations of its original audience and captivating a whole new generation.
VIEW TRAILER HERE: vimeo.com/673441852
---
Synopsis:
Lost in the rain one night, David (GEOFFREY RUSH) stumbles into a wine bar. Although wildly eccentric, David is a brilliant pianist and impresses the owner, Sylvia (SONIA TODD), who gives him a job playing regularly at the bar.
David's father, Peter (ARMIN MUELLER-STAHL), had been a strict and domineering parent, determined to see his son, David, excel as a pianist. When young David (NOAH TAYLOR) shows extraordinary talent he attracts the attention of a well-known international musician, who offers him a scholarship to study in America. But Peter can't bear the thought of losing David and forbids it.
David forms a strong and touching relationship with a famous elderly writer, Katharine Susannah Prichard (GOOGIE WITHERS) and when another opportunity to study abroad appears, she urges him to accept. This time David defies Peter's authority and is banished from home.
At the Royal College of Music in London, David studies under a legendary professor, Cecil Parkes (SIR JOHN GIELGUD), himself something of an eccentric. Parkes recognises in David the spark of genius.
Despite his brilliance, David cannot cope with the separation from his family. He is unable to care for himself properly and his life becomes fragmented. Although his performance at a major concert is a triumph, he suffers a nervous breakdown and returns to Australia to years of confusion, living in and out of psychiatric institutions.
A chance meeting with Gillian (LYNN REDGRAVE), a visiting astrologer, develops into an unlikely romance and they marry. Gillian's love brings stability to David's chaotic world and he returns to concert performance in triumph. Gillian helps David come to terms with the death of his father, resolving the traumas of his past.
"The most BREATHTAKING Australian movie of the year." - Ruth Hessey, Sydney Morning Herald.
WINNER! Best Actor (Geoffrey Rush) 1997 Academy Awards
WINNER! Best Actor (Geoffrey Rush) 1997 Golden Globe Awards
WINNER! 9 AFI Awards
Related files
Images