LOUSY LITTLE SIXPENCE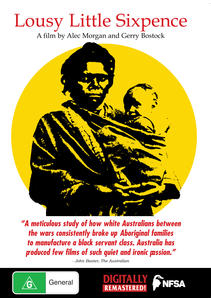 price includes GST and postage

DIGITALLY RESTORED by the NFSA as part of the NFSA RESTORES program, in association with AIATSIS.
In Australia in 1909, in the state of New South Wales, the Aborigines Protection Board planned to break up Aboriginal communities by forcibly removing their children and hiring them out as servants to white employers.
The title of this powerful documentary comes from the wages that were to be paid to the children. Many never saw that "lousy little sixpence".
In the mid-1930s, Aboriginal people began to organise, and to fight the Aborigines Protection Board. Through old newsreels, archive film, photographs and interviews with Elders, the film weaves a moving account of a hidden history, the early struggle for Aboriginal land rights and self-determination.
"A meticulous study of how white Australians between the wars consistently broke up Aboriginal families to manufacture a black servant class. Australia has produced few films of such quiet and ironic passion." - John Baxter, The Australian.
Appearing in the film: Margaret Tucker, Bill Reid, Geraldine Briggs, Violet Shea
Director: Alec Morgan
Producers: Alec Morgan and Gerry Bostock
Associate Producer: Lester Bostock
Cinematography: Martha Ansara, Jaems Grant, Allesandro Cavadini, Fabio Cavadini
Editors: John Scott, Ronda MacGregor
Original Music: Ralph Schneider
Sound Recordists: Lawrie Fitzgerald, John Whitteron, Victor Mayor, Carolyn Strachan
Produced with assistance from the Creative Development Branch of the Australian Film Commission
Related files