GIORGIO MANGIAMELE COLLECTION, THE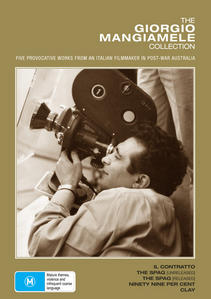 price includes GST and postage

Five provocative works from an Italian filmmaker in post-war Australia. This 2-DVD set includes a 28-page booklet, 70 minutes of interviews with film historians (Graham Shirley, Quentin Turnour and Gino Moliterno), and personal reminiscences by Rosemary Mangiamele, Giorgio's widow, as well as the following five films:
IL CONTRATTO
THE SPAG [unreleased]
THE SPAG [released]
NINETY NINE PER CENT
CLAY
Giorgio Mangiamele is one of the most under-estimated figures in Australian cinema history. Soon after his arrival in Australia in 1952 as a migrant from Italy, he began making films at a time when feature film production in Australia was almost non-existent. His films were seldom seen in Australia, although one - CLAY (1965) - was applauded overseas as an official selection in the Cannes Film Festival. They have been virtually unavailable since, until the appearance of this DVD collection of some of his major works.
Displaying almost Quixotic ambition, Mangiamele's first venture into production was a feature film, IL CONTRATTO (1953), which he began within a year of arriving in Australia. This drama about the isolation and alienation of Italian migrants was never completed, but what remains is a remarkably powerful portrait of a neglected segment of Australian society. The following three films in this collection also express the anguish of the migrant experience: the two radically different versions of a short drama THE SPAG (c.1960-2), and a robust comedy, NINETY NINE PER CENT (1963). All of these films reveal Mangiamele's keen eye for visual poetry and the strong humanism of his concern for his characters.
These qualities are amplified in his first completed feature film, CLAY, which explores the alienation, not of migrants, but of a man on the run from the police who is taken in by an isolated community of artists. His emerging love affair with a young sculptor leads to tragedy. The intensity of Mangiamele's breathtaking vision recalls the work of Jean Cocteau and other French romantic poet/filmmakers, and signifies the appearance of a major art cinema talent, imbued with European cinema culture, who tragically never found an opportunity to find full expression of his vision after this one extraordinary feature.
This collection of newly re-mastered and restored films is a treasure-trove for anyone interested in Australian cinema and art movies. It's a rare treat to be able to discover and explore the greatness of Mangiamele's talent.
DVD edition designed and authored by RONIN FILMS.
Extras filmed and edited by RONIN FILMS.
Curated and re-mastered by the National Film and Sound Archive (NFSA).
---
CELLULOID IMMIGRANT: Italian Australian Filmmaker Giorgio Mangiamele
A book by Gaetano Rando and Gino Moliterno
Written by two Australian academics with a long-standing interest in the work of Mangiamele, Celluloid Immigrant is the first in-depth study of his work. The book appraises Mangiamele's films in the cultural context of the period, assessing his contribution to the development of Australian cinema and providing new insights into Australia's cinematic culture.
Follow this link to purchase the book: www.theeducationshop.com.au/shop/product.asp?pID=3321&cID=8&c=112731
---
Follow this link to view the Giorgio Mangiamele trailer: vimeo.com/591927434