STRANDED
Year: 2006
Classification: M
Runtime: 52 min
Produced In: Australia
Directed By: Stuart McDonald
Produced By: Beth Frey, Lizzette Atkins
Language: English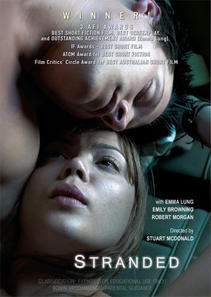 price includes GST and postage

Death, love and family values are all up for re-negotiation in this dark and unusual black comedy.
With unusual sensitivity and insight, STRANDED is a drama that observes a family struggling to cope in the aftermath of a suicide. Emma Lung gives a superb performance as Claudia, the older of two sisters, constantly warring with her deeply disturbed sibling, and trying desperately to start a new life for herself. Claudia lives in a world of no job, no school and no money. Since her mother's death, her sister won't go to school and her father Rex simply won't get off the couch. The house is in a state of extreme neglect.
In a heart-wrenching climax, Claudia resolves to confront her family situation but finds an even greater state of domestic chaos when two homeless children are dumped on the household.
Winner of many awards, STRANDED is crafted with consummate skill by director Stuart McDonald and writer Kathleen O'Brien, walking a fine line between human comedy and tragedy.
"A smart, distinctive and occasionally unsettling coming-of-age comedy" - London Film Festival programme notes.
2007 LOGIE WINNER! Graham Kennedy award for most outstanding new talent - EMMA LUNG
WINNER! 3 AFI Awards Best Short Fiction Film, Best Screenplay, and Outstanding Achievement Award [Emma Lung]
WINNER! IF Awards - Best Short Film
WINNER! ATOM Award for Best Short Fiction
WINNER! Film Critics' Circle Award for Best Australian Short Film
WINNER! BEST FEATURE FILM and BEST ACTING ENSEMBLE - Ashland Independent film Festival
Related files