SPECIAL TREATMENT- Locking Up Aboriginal Children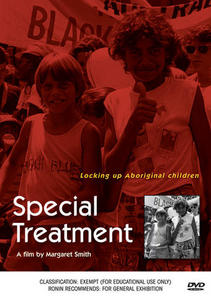 price includes GST and postage

Australia imprisons almost as many black children as are imprisoned in South Africa. Today 45% of all juveniles in NSW jails are Aboriginal, though they form less than 2% of the population. Made by a crew of Aboriginal and non-Aboriginal Australians, this documentary asks why police are under-using alternative procedures to criminal charges, such as counselling, and why they target Aboriginal juveniles.
For black Australians, confrontation with police is a brutal reality. Some Australians call it a 'secret war'. Others see it as evidence of an on-going penal mentality.
But despite the attempt at cultural genocide, Aboriginal juveniles remain defiant and resilient, with a clever humour that gets them into even more trouble with police. They have to contend with over-policing and police harassment, and a criminal justice system which is more likely to sentence them for petty crimes than their white counterparts.
The documentary features prominent Aboriginal commentators such as Lyall Munro Jnr., Evelyn Crawford and Shane Phillips, as well as criminologist Chris Cunneen, who tell of the history of taking Aboriginal children away from their families.
The overwhelming fear of some Aboriginal people is that repeated incarceration can lead to institutionalisation, deaths in custody, or a pattern of life which can psychologically cripple juveniles in adulthood.
The film visits outback towns including Bourke, Brewarrina and Walgett, as well as Moree and Sydney's Redfern, and goes inside Reiby, Minda and Mt Penang juvenile detention centres.
Aboriginal teenagers make provocative statements as the film explores what juveniles think about how they are treated. It also attempts to explore past, present and future solutions as Koori kids tell their own stories and comment on the initiatives now being taken.
The soundtrack features some of the exciting bands of contemporary Australian rock music such as Paul Kelly, Archie Roach and Mixed Relations.
SPECIAL TREATMENT received a special commendation from the Human Rights and Equal Opportunity Commission.
Shane Phillips, who appears in SPECIAL TREATMENT, was named Australia's Local Hero for 2013.
Produced and directed by Margaret Anne Smith
Narrated by Lydia Miller
Cinematography by Joel Peterson
Edited by Tim Litchfield
Produced with the assistance of the Aboriginal Arts Board of the Australia Council, the Aboriginal and Torres Strait Islander Commission, Australian Catholic Relief, Community Aid Abroad, Film Australia, and the New South Wales Aboriginal Land Council.