WEDDING IN RAMALLAH, A
Year: 2002
Classification: M
Runtime: 90 min
Produced In: Australia
Directed By: Sherine Salama
Produced By: Sherine Salama
Language: English subtitles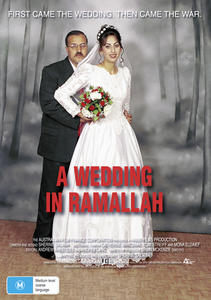 price includes GST and postage
From acclaimed filmmaker Sherine Salama, the story follows a marriage between an American-based Palestinian man (Bassam Abed) and a young woman (Mariam), with a traditional village upbringing. Bassam works as a telephone repairman in Cleveland, Ohio, and returns to the West Bank town of Ramallah to find a wife. A few weeks later the two are married and we are offered unique insight into the arranged wedding. The film subsequently follows their desperate attempts to secure a visa to America for Mariam, and her resulting life in Cleveland, languishing in an apartment with no friends
or support.
"Australian film maker Sherine Salama, becomes something of a confidant to her subjects, and brings us disconcertingly close to them: we become privy to gossip, family rows, hasty confidences, moments of frustration, occasions of high expectation and intimacy." - Philippa Hawker, The Age.
"Utterly involving, Salama's film foregrounds a slyly feminist view of life under occupation - methodically disempowered men can make methodically lousy husbands - while keeping a sympathetic eye out for the ploys with which pride can withstand the most outrageous indignity." - Bill Gosden, New Zealand Film Festival.
WINNER!
Best Direction in a Documentary - AFI Awards 2002
Best Documentary - AFI Awards 2002
Best Documentary - Australian Film Critics' Circle Award - 2002
FIPRESCI (International Critics' Award)! - Melbourne International Film Festival - 2002
Best Documentary - Calgary International Film Festival - 2002
Grand Prix - Cinema du Reel
Grand Jury Prize - Los Angeles International Film Festival
Special Jury Prize - Full Frame Film Festival
Best General Documentary (Social & Political Issues) ATOM Awards