TALES FROM THE DALY - Nauiyu Nambiyu [from the CAAMA Collection]
Year: 2010
Classification: Exempt - Ronin Recommends: G
Runtime: 20 min
Produced In: Australia
Directed By: Steve McGregor
Produced By: Tanya Fraser
Language: Ngen'giwumirri language [English subtitles]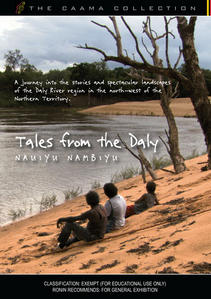 price includes GST and postage

In the Monsoon season, the Daly River region is lashed by savage storms which bring the landscape and river to life. Legend says it is the Sugar Glider traveling across the sky mischievously moving the clouds around, which brings the rain. But amidst the tropical beauty lies danger.
Stories about the monsoons and the river have been told to children for generations, to teach them to have respect for the bush and to be wary of its dangers. The Wabuymem is one of these stories.
The Wabuymem is a little grey spirit that lives in the banyan tree, lying in wait for curious children. The spirit stalks the children and lures them away from their families into the tangled mass of the banyan tree, never to be seen again. Wungung is one such boy who strays away from his grandparents while hunting. His fate is sealed when he disturbs the little grey spirit in the banyan tree ...
This reconstruction of Wangung's story evocatively captures the full power and visual richness of the stormy wet season. The filmmaker, Steve McGregor, has been making films in the Daly River region for 15 years and has been associated with the area through his wife who comes from the region.
---
Cast Adam Sambano (as Wungung), Christina Yambeing and Peter Martin
Director - Steve McGregor
Photography - Allan Collins acs
Editor - Haig Stewart
Composer - George Papanicolaou
Narrator - Miriam-Rose Ungunmerr Baumann
Series producer - Tanya Fraser
Executive producer - Ray Lillis
A CAAMA Production for Imparja TV, in the Nganampa Anwernekenhe series
Principal investor: Screen Australia
---
Follow this link to view a trailer that includes this title and other CAAMA titles: www.youtube.com/watch?v=TnQTe35Fm6o
Related files