WITH MORNING HEARTS
Year: 2001
Classification: Exempt - Ronin Recommends: G
Runtime: 110 min
Produced In: Australia
Directed By: David MacDougall
Produced By: David MacDougall
Language: English subtitles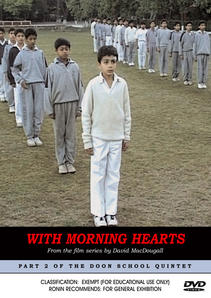 price includes GST and postage

This film focuses on a group of twelve-year-olds during their first year in one of the "houses" for new boys. The film concerns their attachment to the house but, more importantly, their attachment to one another in a communal life. It follows, in particular, the experiences of one boy and several of his close associates, from their initial homesickness, to their life as members of the group, to their separation from the house at the end of the year. The title is taken from a school prayer:
Call us up with morning faces
And with morning hearts,
Eager to labour, eager to be happy
If happiness shall be our portion,
And if the day be marked for sorrow,
Strong to endure it.
"Brings the viewer into the intimate world of adolescent boys from a variety of backgrounds, discovering and constructing themselves as they are being trained to become the future leaders of India. This is an extraordinary film for understanding how young men are being formed in everyday cultural practices and social aesthetics that reflect contemporary India as well as its colonial past. Made with extraordinary insight, sensitivity, and understated humour, this exquisitely made film - created by one of the leading figures in ethnographic documentary - is of great value for those hoping to communicate everyday realities about India, about education, about masculinity, and about film itself." - Professor Faye Ginsburg, Director of the Center for Media, Culture, and History, New York University.
"Without doubt the Doon Project will provide plentiful material for discussion of such matters as the place of such a school in a democratic society; the acculturation of children; identity in its old sense versus 'identity' in its new sense of national or cultural conformism; how an elite perpetuates its values; or, at a more experiential level, how we may each position ourselves in relation to the machineries of social constraint. Nevertheless, simply to call these anthropological films would, while true, be a little like calling [Chinua Achebe's] Things Fall Apart an anthropological novel. They are major contributions to our screen culture, and deserve to be seen well beyond the confines of the discipline." - Dai Vaughan, Visual Anthropology.
ALSO AVAILABLE FROM RONIN FILMS IN THE DOON SCHOOL QUINTET
PART 1 - DOON SCHOOL CHRONICLES
PART 3 - KARAM IN JAIPUR
PART 4 - THE NEW BOYS
PART 5 - THE AGE OF REASON
Related files