COLD TURKEY [from the CAAMA Collection]
Year: 2002
Classification: Exempt - Ronin Recommends: PG
Runtime: 45 min
Produced In: Australia
Directed By: Steve McGregor
Produced By: Priscilla Collins
Language: English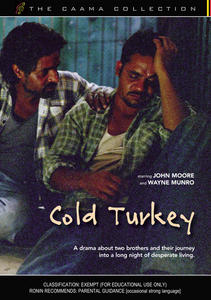 price includes GST and postage

COLD TURKEY is a short drama produced for SBS Independent, about two brothers and their journey into a long night of desperate living in Alice Springs.
Shane and Robby are Indigenous brothers living in Alice Springs. Robby is leaving for a job in the opal fields of Coober Pedy. Feeling abandoned, Shane taunts him into drinking heavily and plots to find a way of stopping him from leaving. Awakening in a prison cell, the brothers attempt to reconstruct the events of the preceding night – a long night of self-destructive drinking. Gradually the pieces of the nightmare start falling into place, or do they?
A story of disempowerment and the breaking of a spirit, COLD TURKEY provides a twist on the theme of "brotherly love". Superbly acted by its young cast, and inventively directed, this intense and unsettling drama offers an insight into the emotional dimension of social dislocation and alienation among young Aboriginal men in an urban context.
The film was nominated for two AFI Awards – for Best Screenplay and for Acting (John Moore) in the non-feature film category. It also received a Special Mention at the 2003 Milan Film Festival.
---
Cast: John Moore (as Shane), Wayne Munro
(as Robby), Kelton Pell (as the Old Man)
Writer / Director - STEVE McGREGOR
Producer - PRISCILLA COLLINS
Photography - ALLAN COLLINS
Editor - KAREN JOHNSON
Music - DAVID BRIDIE
Production designer - SAM HOBBS
Sound designer - MIKE GISSING
Line producer - KATH SHELPER