SEARCHING FOR INGMAR BERGMAN
Year: 2018
Classification: M
Runtime: 99 min
Produced In: Germany
Directed By: Margarethe von Trotta
Language: English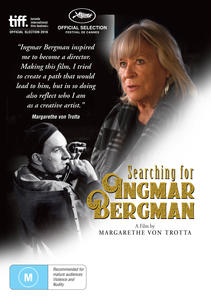 price includes GST and postage

"I first saw The Seventh Seal in Paris when I was 18. I have carried Bergman in my heart all my life since then." – Margarethe von Trotta

In this beautifully crafted and moving memoir, Margarethe von Trotta recalls the inspiration she found in the work of Ingmar Bergman: his films triggered her decision to become a director and guided many of her creative decisions over her long career.
View trailer here: vimeo.com/286819023
Margarethe Von Trotta began in films as an actor working with her then husband, Volker Schlondorff, with whom she also co-directed two films. She acted in four films directed by Rainer Werner Fassbinder, and became a solo director herself in 1978. She went on to direct many international award-winners including Sisters - or the Balance of Happiness, Rosa Luxemburg, Rosentrasse and most recently, Hannah Arendt.
In this reflective documentary von Trotta makes creative use of a wealth of fascinating home movie footage of Bergman, and meets some of his former collaborators including Liv Ullmann and Gunnel Lindblom, his sons Daniel and Ingmar Jnr, and talks with a new generation of Danish filmmakers about his influence in cinema today.
"Ingmar Bergman inspired me to become a director. Making this film, I tried to create a path that would lead to him, but in so doing also reflect who I am as a creative artist." 
- Margarethe von Trotta
Bergman (1918 - 2007) was one of the most influential filmmakers of his time – a towering figure whose introspective films like The Seventh Seal, Wild Strawberries, The Silence, Persona, Fanny and Alexander and Autumn Sonata had enormous impact on the development of film language and the expressive potential of the medium. Von Trotta's beautiful documentary explores key components of Bergman's legacy, and traces themes that recurred in his life and art, as well as taking us to locations that were central to his creative achievements.
Director Margarethe von Trotta
Co-directors Felix Moeller, Bettina Böhler
Writters Margarethe von Trotta, Felix Moeller
Producer Benjamin Seikel
Cinematographer Börres Weiffenbach
Editing Bettina Böhler
© C-Films (Deutschland) GmbH, Mondex et Cie 2018
Related files