PRESIDENT VERSUS DAVID HICKS, THE
Year: 2004
Classification: M
Runtime: 81 min
Produced In: Australia
Directed By: Curtis Levy, Bentley Dean
Produced By: Curtis Levy
Language: English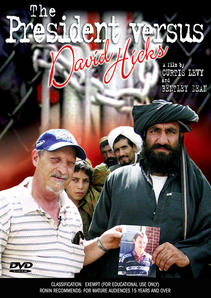 price includes GST and postage

Your son converts to Islam. Your son fights for the Taliban. Your son is a supposed Terrorist. Your son is still your son.
In January 2002 Australian David Hicks was picked up in Afghanistan by the Northern Alliance and handed over to the US military.
Hicks was taken to the American Naval Base in Guantanamo Bay, Cuba, for interrogation and has been held there - in a small cage - ever since. Labelled an "unlawful combatant" by US President George Bush, he is allowed none of the rights of ordinary prisoners-of-war. No charges have been laid against him and only recently has he been given access to a lawyer.
So how did a 26 year old former stockman from Adelaide, end up as a Taliban fighter? The President versus David Hicks sets out to answer this question.
The film follows the journey made by Terry Hicks, David's father, as he traces his son's footsteps in an attempt to understand what has happened to him. David wrote long and surprisingly eloquent letters to his family and friends and it is these which provide the "map" for his journey - from Adelaide to Japan and on to the battle in Kosovo where he seems first to have become interested in Islam.
He travels deep into Taliban country to meet a former detainee of Guantanamo Bay who was in a cell next to David and knew him well. Later Terry comes face to face with the man who captured his son.
Piece by piece a picture of David emerges as Terry struggles to understand his son.
WINNER! Most Outstanding Documentary Series - 2005 LOGIE AWARDS
WINNER! BEST DOCUMENTARY - 2004 AFI AWARDS
Related files