Margarethe von Trotta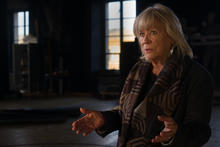 The daughter of Elisabeth von Trotta and the painter Alfred Roloff, Margarethe von Trotta was born in Berlin in 1942 and spent her childhood in Düsseldorf. After fine art studies, she moved to Munich to study Germanic and Latin language. She then joined a school for dramatic arts and began an acting career, in the theatres of Düsseldorf and afterwards in the Kleines Theatre of Frankfurt in 1969 and 1970. At the end of the 1960 she moved in Paris for her studies and immersed herself in the film-lover circles of the time. She took part in script redacting and directing of short films and discovered, via the Nouvelle Vague directors and critics, the films of Ingmar Bergman and Alfred Hitchcock.
In Germany, Margarethe von Trotta has worked with a new generation of young filmmakers: Herbert Achternbusch, Volker Schlöndorff who she married in 1971 and with whom she directed and wrote The Sudden Wealth of the Poor People of Kombach (1971) and The Lost Honour of Katharina Blum (1975), as well as Rainer Werner Fassbinder who made her act in four of his films. She directed in 1978 her first long feature, The Second Awakening of Christa Klages. The next year Sisters, or the Balance of Happiness marked the beginning of her trilogy, completed by Marianne and Juliane (Golden Lion at Venice Film Festival in 1981) and Love and Fear (1988). As in Sheer Madness (1983), presented at the Berlin Film Festival and one of her most popular film to this day, these films explored the destinies of politically committed women, who refuse the role society gave them.
Three years later her film Rosa Luxemburg, on the personal and public life of the German activist, came out in theatres after its presentation in Competition at Cannes Film Festival, where Barbara Sukowa received the Best Actress Palme for her performance in the film. In 2012 Margarethe von Trotta completed her exploration of women's destinies with Hannah Arendt.
DIRECTOR'S FILMOGRAPHY
• 1975: The Lost Honour of Katharina Blum
• 1978: The Second Awakening of Christa Klages
• 1979: Sisters, or the Balance of Happiness
• 1981: Marianne and Juliane (aka The German Sisters)
• 1983: Sheer Madness
• 1986: Rosa Luxemburg
• 1988: Felix
• 1988: Love and Fear
• 1990: The African Woman
• 1993: The Long Silence
• 1995: The Promise
• 2003: Rosenstrasse
• 2006: I Am the Other Woman
• 2009: Vision
• 2012: Hannah Arendt
• 2017: Forget About Nick
• 2018: Searching for Ingmar Bergman
Filmography
| | |
| --- | --- |
| | "I first saw The Seventh Seal in Paris when I was 18. I have carried Bergman in my heart all my life since then... |