CREATING A MONSTER
Year: 2017
Classification: PG
Runtime: 20 min
Produced In: Australia
Directed By: Gena Lida Riess
Produced By: CJ Welsh
Language: English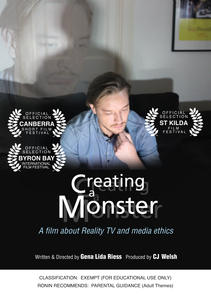 price includes GST and postage

This documentary by Gena Lida Riess explores the ethics of reality television, how it is constructed and consumed, and the psychological impact it has on participants.
The film examines how the characters of people on reality television shows are simplified to serve the program's needs and narratives. Further, it questions whether our consumption of reality television negatively affects the lives of the participants in these programs.
On the surface Creating a Monster is about reality television. However, sub-textually the film confronts a bigger ethical question about the psychological impact on the contestants: is the fault placed on reality television producers or the audience who consumes the product?
VIEW THE TRAILER: vimeo.com/263683940
Directed & Edited by Gena Lida Riess
Produced by CJ Welsh
Director of Photography - Elle Marsh
Sound Recordist - Eliza Cox
Additional Sound - Madeleine Martiniello
Music - Maxwell Riess
Stills Photographer - Matthew Zimmari
Featuring: David Witko, Alex 'Boog' Roe, Clare Verrall, Sandra Rato, Dr Misha Kavka
Produced by the School of Film and Television, Victorian College of the Arts, University of Melbourne.
Supervising producers – Steve Thomas, Shannon Owen, Gus Howard
---
COMMENTS AND FEEDBACK
"There is a dearth of films that manage to get behind the gloss and glamour of shows like 'The Bachelor' etc. Creating a Monster does just that. It is a terrific and moving exploration of how participating in 'Reality TV' can affect individuals, especially when they feel misrepresented. As someone concerned with media ethics and non-fiction filmmaking I found myself quoting this film in my PhD thesis, such is its contribution."
- Dr Steve Thomas, Snr Lecturer in Documentary, Victorian College of the Arts Film & TV, University of Melbourne.
"Creating a Monster is a must watch documentary. The film serves as a strong educational resource for students of media, drama, English and psychology, offering a fascinating insight into the machinations of this incredibly constructed medium. All too often, viewers get sucked into these shows, forgetting that producers cast real people in traditional stereotypical roles, from the villain to the beauty to the bitch to the girl next door. Once the show ends, the characters reputation lives on in the public's consciousness, yet the reality stars lives are forever transformed by a reputation that far often precedes them. Creating a Monster is a poignant reminder about how much power the producers and networks have in crafting what we think and feel about someone, no matter what cost it may have on their personal lives."
- Donna Hensler, Master of Producing, Lecturer, Victorian College of the Arts Film & TV, University of Melbourne.
---
Podcast on Reality TV
Gena Lida Riess, the director of Creating a Monster, appeared in an excellent ABC Radio National Podcast about Reality TV, broadcast 1 May 2021, on the God Forbid program with host, James Carleton, and guests Dr Scott McKinnon and journalist, Siobhan Marin: www.abc.net.au/radionational/programs/godforbid/can-reality-tv-be-more-than-a-spectacle/13321246
---
DIRECTOR'S STATEMENT:
I have, for a while now, had an obsession with reality television. I used to be ashamed of it, but now I embrace it whole-heartedly. When people would ask me, 'why do you watch that shit?', I would at first just shrug with embarrassment. But over time I have started to actually think about the question – why do I watch reality television?
I've come to a preliminary conclusion that the fact or the illusion that this is really happening and that these people are real people adds to the joy of watching. This leads me to a bigger question: not only why do we watch reality television but why do we like to watch people in general? What is the fascination with the idea of it being real?
I know, in fact, that it isn't totally real and that it, like other shows, has been con- structed to play out a narrative. The people are, of course, real people, but are they playing themselves or a role? Or is the audience's need for drama that imposes roles on the cast members?
The film's aim is not to do an 'exposé' on the truth or the corruption of reality television. The film comes from a place of genuine interest into how reality television is made and how it is consumed.
- Gena Lida Riess, 2017
---
FESTIVALS
London Monthly Film Festival
Young Filmmakers
Byron Bay International Film Festival - Winner of 'favourite film vote' from the students of Sprockets High School Sessions
St Kilda Film Festival
Canberra Short Film Festival
Australian Short Film Today, NYC
Film School Fest, Munich
---