SHARK TRACKER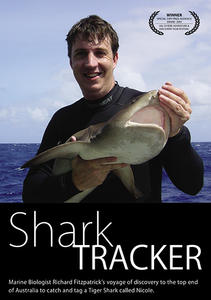 price includes GST and postage

Shark Tracker follows Richard Fitzpatrick, a marine biologist, paleo-biologist and underwater-cameraman who has spent over 8,000 hours underwater. Richard caught his first shark when he was twelve years old, and his fascination with them thrived ever since.
In Shark Tracker, Richard and his team begin by catching two White Tip Reef sharks who need new batteries for their tracking tags. After their transmitters are inserted, these sharks will be monitored by satellite tracking. This will allow Richard to study their social behaviour, movements and predating.
Richard and his team then travel to Raine Island, off Cape York, a pristine marine sanctuary at the far north of the Great Barrier Reef. The island is the largest Green Turtle hatchery in the world, and it offers an easy meal for cruising tiger sharks.
As part of a CSIRO Marine Research project, Richard's goal is to capture a 'tiger' and attach a CSIRO satellite tag to its dorsal fin, sending a signal to orbiting satellites,
so researchers can track the shark's location. After a tense week of waiting, with a cyclone brewing, a 3.2 metre 'tiger' is finally spotted. The team attract it with bait,
and then Richard jumps into the water to lasso the shark's tail and hang it upside down to "chill it out"... The shark – nick-named "Nicole"– is tagged and released. Her movements are monitored in the coming months via satellite. The tagging is a world first and the start of a long-term study of the relationship between tiger sharks and sea turtles, and the role of Raine Island in the Great Barrier Reef eco-system.
A few months pass, and suddenly Nicole's transmissions cease. A call from a barramundi fisherman confirms that she has drowned in his nets. The project is over but Richard is only more committed to his quest to conserve sharks in the wild.
---
WINNER - Special Jury Prize Audience Award - 2003 Val d'Isere Adventure and Discovery Film Festival (France)
---
Related files