ELLA
Year: 2016
Classification: Exempt - Ronin Recommends: G
Runtime: 86 min
Produced In: Australia
Directed By: Douglas Watkin
Produced By: Veronica Fury
Language: English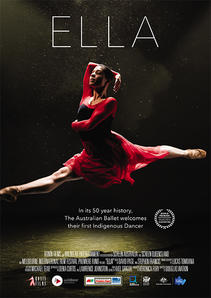 price includes GST and postage

An intimate portrait of the first Indigenous dancer to be invited into The Australian Ballet in its 50 year history - Ella Havelka.
Rated 8.7 on IMDb
"4 stars - a sensitive, intelligent and often moving documentary ... addresses issues which are of vital importance. ... Ella is one extraordinary individual." - William Yeoman, The West Australian
"The most beautiful, lyrical documentary I have seen in a long time." - Ros Hull, Her Canberra
"An important project ... a well-packaged glimpse into a very valuable story. ... It's altogether dreamy, heroic and genuine - don't miss it!" - Dov Kornits, FilmInk
"in Ella, there is a remarkable merging of the personality of a film with the personality of the central character. Ella herself has a quiet, introspective, sensitive aura about her as a dancer, but the film reveals the resolute determination and sheer physical strength that underlies her work. Similarly the film, for all its gentleness, modesty and apparent simplicity as a narrative, works with quite muscular persistence towards a focus on Ella's Indigenous identity. The resolution of the film's focus, and of Ella's personal quest, is both deeply moving and exquisitely expressed." - Andrew Pike
---
Ella Havelka is the first Indigenous dancer to be invited into The Australian Ballet.
Ella's introduction to dance began at the Dubbo Ballet Studio and with the help of scholarships and hand-me-down tutus, she quickly started winning local Eisteddfods and was soon dancing six days a week.
In 2009, after four years of training in The Australian Ballet School in Melbourne, Ella joined Bangarra, the Sydney-based Indigenous dance company, where she learnt not only the very different rigours of contemporary dance, but began a powerful and moving journey of self-discovery into her Indigenous heritage.
It was not until 2012 when Bangarra did a joint performance with The Australian Ballet - Warumuk - in the dark night - that the call of the ballet was re-ignited within Ella. She accepted an offer to become the first Indigenous dancer to join The Australian Ballet in its 50 year history.
The film follows Ella as she faces the challenges of adapting back to being en pointe after four years of barefoot dancing with Bangarra, and we see her face fierce competition for roles. We also go with The Australian Ballet on tour to China where Ella dances in Graeme Murphy's celebrated interpretation of Swan Lake in Beijing.
Woven throughout the film is a moving personal journey back to Ella's roots. Guided by her mother, Ella begins to reconnect with her Indigenous culture, hearing Wiradjuri language, engaging in basket weaving with Elders and visiting the gravesites of her people for the first time. She also explores her childhood. Both Ella and Janna give intimate accounts of the circumstances surrounding her birth, for Ella never knew her father, even though he lived in the same town. However, after his death Ella was given a scrapbook of clippings that he had kept, painstakingly documenting her whole career. She feels now that he was, and always is, with her.
Ultimately, we follow Ella as she finds her own unique form of expression through dance, choreographing her own work. Using a blend of Bangarra's contemporary Indigenous styles and traditional western ballet, Ella finally expresses herself in her own distinctive way.
ELLA was directed by Douglas Watkin, an exciting Indigenous filmmaker from Queensland making his first long-form documentary after 20 years in television.
Postscript: in May 2017, Ella Havelka won the Arts & Culture category in the InStyle Magazine Women of Style Awards.
---
WATCH THE TRAILER: vimeo.com/175474033
---
Here are links to two nice reviews arising from the screenings of ELLA at the Melbourne International Film Festival:
junkee.com/introducing-ella-story-australian-ballets-first-indigenous-dancer/82624
---
WINNER! 2016 ATOM Award for Best Indigenous Video or Website
---
Related files
Images