RINGTONE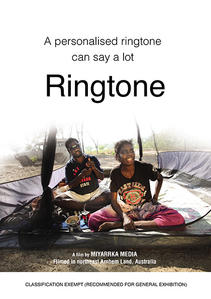 price includes GST and postage

In a world where everyone has a mobile phone, a personalised ringtone can say a lot about you.
Welcome to the once-remote Aboriginal community of Gapuwiyak in northeast Arnhem Land in the Northern Territory, where individual ringtones reveal rich insights into lives of the Yolngu people.
From ancestral clan songs, animal calls and birdsongs to hip hop artists and gospel tunes, a Yolngu ringtone always comes with a great story. It might be the music a young woman dances to in a city nightclub, or a clan song invoking memories of ancestors and country.
Yolngu people are renowned as first-rate storytellers with a keen sense of humour. In Ringtone, various individuals talk directly to camera as they reveal the advantages and perils of their new connectivity.
Made collaboratively by Miyarrka Media, a new media arts collective of Indigenous and non-Indigenous filmmakers, Ringtone is a beautiful, funny and surprising film about the place of mobile phones in a contemporary Australian Indigenous community.
---
Reviews:
"A compelling short film ... (this) video has a light feeling, although its quickness and brevity belie the serious work it accomplishes. ... We learn not only that ringtones extend cultural practices, but also that new practices take shape through mundane ways and that Yolngu elders often look to younger generations for guidance. In these exchanges, we grasp the respect, love, and admiration that older people have for their younger kin. ... Deger and Gurrumuruwuy's film offers a striking and disarmingly charming opening onto these phenomena."
- Daniel Fisher, University of California, Berkeley, in Visual Anthropology Review, Vol. 33, Issue 2, pp. 201–202 (2017)
"A captivating short film about the poetics and challenges of contemporary Yolngu engagements with mobile phone technology. In humorous and deeply moving narratives, sixteen protagonists directly address the audience as they explain their choice of ringtone. The film offers glimpses into the diverse social worlds and relationships signalled by these choices, ranging from gospel songs in Yolngu matha (language) to US West Coast rap, to ancestral clan songs. ... Ringtone is remarkably effective in transporting viewers into the complex lives of its Yolngu protagonists and their creative engagement with technological change in Gapuwiyak and beyond."
- Anna Weinreich, New York University, in Oceania, Vol. 87, Issue 3 (2017)
Related files