HANDLING THE HEART
Year: 2022
Classification: Exempt - Ronin Recommends: PG
Runtime: 27 min
Produced In: Australia
Directed By: Andrew Pike
Produced By: Andrew Pike
Language: English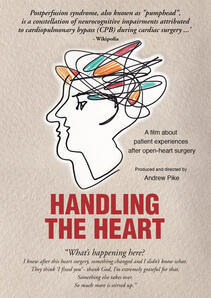 price includes GST and postage
Both HANDLING THE HEART and PUMPHEAD are now available on the one DVD - order on-line through Ronin Films.
Handling the Heart is a 27 minute film adapted from the feature-length documentary, Pumphead. The film exploring patient experiences following major heart surgery - how to understand these experiences and how to live with them.
Through the stories of four ex-patients, including the filmmaker himself, this documentary indicates the complex diversity of emotional and cognitive changes that often occur after open-heart surgery, simultaneous with physical recovery. In particular the film focuses on the phenomenon of "post-traumatic growth" which often co-exists with psychological challenges and is triggered by them.
All of the ex-patients in the film reveal aspects of "post-traumatic growth" - marked changes in personal values and priorities, life-style, creativity, and social and family relationships, leading to a life that in many cases is profoundly different from the time before surgery.
Through this composite story of existential crises and transformative experiences, the film also delves into the gulf that can exist between advances in medical science on one hand, and patient experiences on the other. In particular, the film raises the difficulties that the medical establishment often faces in responding to problems that are emotional, intangible and hard to quantify. As one ex-patient contemplates in the film, the "roller-coaster ride" that some patients experience after open-heart surgery is "invisible" to other people. The film is designed to make the "invisible" more apparent and to promote awareness, empathy and under-standing.
The filmmaker, Dr Andrew Pike, is an award-winning documentary filmmaker who had open-heart surgery in 2011.
See also the Pumphead page on this website for further information: www.roninfilms.com.au/video/858/0/13773.html
SEE TRAILER HERE: vimeo.com/716692776
Produced and directed by ANDREW PIKE
Edited by JAMES LANE
Principal photography - ZHENSHI VAN DER KLOOSTER
Music by Sergei Rachmaninoff performed by David Pereira (cello), Chris Latham (violin) and Edward Neeman (Piano)
Produced with assistance from the ACT Screen Arts Fund through Screen Canberra and the ACT Government.
Produced with the support of Screen Australia's Producer Equity Program.
Financed with the assistance of Documentary Australia Foundation.
Permalink: https://www.roninfilms.com.au/feature/17867