BLACKBIRD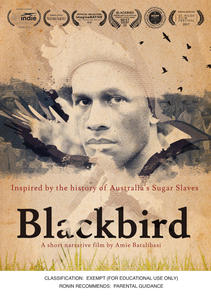 price includes GST and postage

Blackbird is a short narrative drama by Australian Solomon Islander filmmaker, Amie Batalibasi. The film sheds light on a little known part of history - Australia's sugar slaves. Set in the late 1800s, it follows the story of Solomon Islander siblings, Kiko (16) and Rosa (24), who were kidnapped from their Pacific island home and forced to work on a sugar cane plantation in Queensland. In a world where exploitation of Pacific Islanders for cheap labour is legislated and conditions for islanders are akin to slavery, Rosa struggles to keep an eye on her spirited young brother as he journeys into adulthood.
Shot entirely on location and in collaboration with communities in Mackay, Queensland - where these historical events took place - Blackbird brings Australia's "blackbirding" era to life. Spoken in Solomon Islands Pijin and augmented with traditional Solomon Islands lullabies, elements of Islander culture, the film immerses audiences in a little known part of Australian history.
Some 60,000 Pacific Islanders like Kiko and Rosa were brought to Australia, often by force and kidnapping, between 1863 and 1904 to work on sugar cane farms of Queensland. Initially, no laws or labour contracts existed to protect them, and they were subject to extreme forms of exploitation by their employers. Later a law was passed to regulate labour trafficking into Queensland and a system of indentured (contracted) labour was introduced. Under this system, Islanders signed three year contracts and were paid a meagre wage, but even under this system Islanders continued to be exploited. (Historical note based on www.humanrights.gov.au/erace-archives-australian-south-sea-islanders).
The descendants of these islanders, Australian South Sea Islanders (ASSI), still live today in Australia and continue to struggle for recognition. Filmmaker Amie Batalibasi, made Blackbird in memory of three of her own ancestors who were blackbirded. The story was inspired by archival and oral history research among ASSI community members in Queensland.
Amie Batalibasi is currently developing a feature adaptation of BLACKBIRD as a Sundance Institute's 2017 Merata Mita Fellowship recipient through the Native and Indigenous Film Program.
VIEW TRAILER HERE: vimeo.com/269596647
Visit the FaceBook site: www.facebook.com/blackbirdfilmproject
In February 2019, BLACKBIRD will screen at the Berlin International Film Festival as part of the Berlinale NATIVe program. See NATIVe press release here: bit.ly/2HeSksM
WINNER Best drama Short Film, Sydney Indie Film Festival
WINNER Best of the Fest Award, Pasifika Film Festival, Sydney
WINNER Panavision Script Award, VCA School of Film & TV, Melbourne University
WINNER Margaret Lawrence Social Justice Award, VCA School of Film & TV, Melbourne University.
PEOPLE'S CHOICE AWARD - BEST SHORT FILM Maoriland Film Festival, New Zealand
OFFICIAL SELECTION ImagineNATIVE Festival, Canada
OFFICIAL SELECTION New Zealand International Film Festival
OFFICIAL SELECTION St Kilda Film Festival
OFFICIAL SELECTION Festival Internacional de Cine Arica Nativa Film Festival, Chile
Writer, Director, Editor Amie Batalibasi
Associate Producers John Harvey and Lia Pa'apa'a
Director of Photography Mark Morris
Community Consultant Elizabeth Warren
Key art design Emma Bemrose
Key art photos Mark Morris

With Jeremy Bobby 
 as Kiko, Regina Lepping 
 as Rosa, and Putu Winchester as The Overseer
Produced with the assistance of the Victorian College of the Arts, University of Melbourne.
Related files
Permalink: https://www.roninfilms.com.au/feature/15253