Amie Batalibasi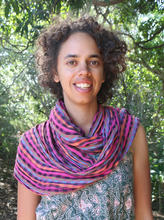 Amie Batalibasi is an Australian Solomon Islander (Feralimae/Kosi) writer, director and producer. Her filmmaking practice is driven by a passion to collaborate with diverse people and communities at a grassroots level, to unearth stories that have the possibility to spark empowerment and create change.
Amie was the 2017 recipient of the Sundance Institute Native and Indigenous Film Program's Merata Mita Fellowship and a Berlinale Talents 2018 participant.
Her award winning short films have screened around Australia and internationally. Over the last ten years, as mentor and media trainer, Batalibasi has produced dozens of short films by first-time filmmakers through collaborative community projects with children and young people, new migrant groups, remote Indigenous communities, and culturally and linguistically diverse communities in and around Melbourne, interstate Australia and in the Solomon Islands.
Batalibasi's current project is a feature adaptation of her award-winning shortfilm, Blackbird. The story explores the little-known history of Australia's sugar slaves by shining a light on the dark history of "blackbirding," where from 1863 to 1904 approximately 60,000 Pacific Islanders were taken, often by kidnapping and coercion, to labor on the country's sugar cane and cotton farms. Set in the decades preceding the "White Australia Policy," the story follows Suana, a spirited young Solomon Islander who is brutally snatched from his island home and forced to work on a Queensland cane farm. Stripped of his culture, identity and entrapped within a world of exploitation, it's his fight for survival that ultimately seals his fate.
Amie Batalibasi graduated with honours from Melbourne University's Victorian College of the Arts (VCA) in a Graduate Diploma of Film and TV (Documentary) in 2007 and a Master of Film and TV (Narrative) in 2015. Her films have screened throughout Australia and internationally.
Filmography
| | |
| --- | --- |
| | Blackbird is a short narrative drama by Australian Solomon Islander filmmaker, Amie Batalibasi. The film sheds light on a little known part of history - Australia's sugar slaves... |