ABORIGINAL RULES
Year: 2007
Classification: PG
Runtime: 55 min
Produced In: Australia
Directed By: Liam Campbell
Produced By: Rita Cattoni
Language: English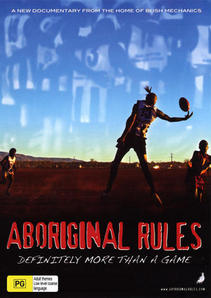 price includes GST and postage

ABORIGINAL RULES follows a year in the life of the Yuendumu Magpies Football Team as they battle it out in the red dirt of the Central Australian Outback. The dust, hard knocks and chaos of a bush footy game are all part of the complicated inter-tribal rivalry that is played out when any two teams meet.
ABORIGINAL RULES is an invitation to discover what it means to be a young Warlpiri Warrior fighting for a place in the team. The culture might be 40,000 years old, but now the rules have changed, and football is the new Dreaming that holds the balance in young men's lives.
The DVD includes: feature documentary; Japu Japu [a short film featuring Francis Kelly from Bush Mechanics]; Fun Training Tips; Yuendumu Sports Weekend; Football montages; Spearthrowing and Firemaking and more.
Written and directed by Liam Campbell. Co-directed by Francis Kelly & Neil White. Produced by Warlpiri Media.
Permalink: https://www.roninfilms.com.au/feature/744