BEYOND SORRY [from the CAAMA Collection]
Year: 2003
Classification: Exempt - Ronin Recommends: G
Runtime: 53 min
Produced In: Australia
Directed By: David Vadiveloo
Produced By: David Vadiveloo
Language: English and Éastern Arrernte language [English subtitles]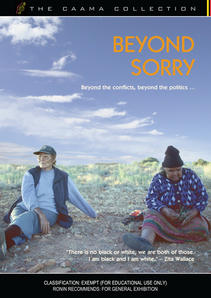 price includes GST and postage

This intimate portrait of two "half-caste" women: Zita Wallace who was taken from her Arrernte family at the age of eight; and Aggie Abbott, an Arrernte woman who was hidden from the Aboriginal Protector at the same time that Zita was taken. Zita lost her Aboriginal heritage and was raised in the white world; Aggie grew up within her Aboriginal community, retaining its language and culture. The film follows the friendship that has developed between the two women in their senior years.
When Zita attempted to re-gain her Aboriginal roots, she was initially rejected by her birth mother who believed that she had died. With Aggie's assistance, she gradually re-built her Aboriginal identity, and, with her supportive husband, moved from her comfortable suburban home in Alice Springs to a simple house in the heart of her grandfather's land. Now with Aggie as her guide, Zita is learning everything she needs to know about being a traditional Aboriginal woman, from how to gut and cook a kangaroo, to painting up and participating in ceremonies.
This powerful and emotional story of two women from the same land trying hard to reconcile two very different cultures, takes our understanding of the stolen generation "beyond sorry" into intensely personal realms, beyond politics and beyond debate.
---
FESTIVALS
2005 Adelaide International Film Festival
2004 ImageNation Film Festival
2004 Sydney Film Festival
2004 Cape Town World Cinema Festival, South Africa
2003 Homelands Film and Art Festival, Australia
2003 Official Selection, Margaret Mead Film Festival New York
2003 Selected for Margaret Mead Traveling Festival, USA
---
Writer / Director - DAVID VADIVELOO
Producers - DAVID VADIVELOO and CAAMA PRODUCTIONS
Photography - WARWICK THORNTON and JASON RAMP
Sound recording - VANCE GLYNN
Editor - DAVID NIXON
Music - MICHAEL DEN ELZEN
Unit manager - PETER YATES
Production Manager - SONETTE JOHNSON
Executive producers - BECK COLE and CITT WILLIAMS
Permalink: https://www.roninfilms.com.au/feature/6572