ARLI (from the CAAMA Collection)
Year: 2016
Classification: Exempt - Ronin Recommends: PG
Runtime: 30 min
Produced In: Australia
Directed By: Christopher Fitzpatrick
Language: English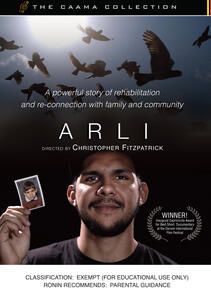 price includes GST and postage

A moving story of rehabilitation and re-connection with family and community.
Winner of the Inaugural Capricornia Award for Best Short Documentary, Darwin International Film Festival, 2016.
Arlun James Jonathan McCormack, Born 3:57pm, 1st of March 1992, 52cm long, weighing 8lb 7oz.
With these bare facts, Arlun ("Arli") begins his story about growing up restless in a small town, his involvement with athletics and music, and his pursuit of alcohol and drug addictions.
With great frankness, Arli talks about his rehabilitation through CAAAPU (Central Australian Aboriginal Alcohol Programmes Unit), an Aboriginal-controlled provider of culturally appropriate counselling and treatment. The rehabilitation process has given him "new morals, new outlooks" which he now seeks to express through his lyrics and music.
"I form habits pretty easily so it comes down to what kind of habits, positive or negative. Growing up, music was a habit, athletics was a habit, and both worked in favour of the greater good, but as I got older and started to become more independent, I led myself astray and formed bad habits. I guess it's about finding a positive addiction. ... Now I feel like I've got a lot of my own power back just to... to take control of what I want to do and what I know is right and what kind of path I want to take."
Arli is an award-winning film by Christopher Fitzpatrick, superbly photographed by Dylan River. It won the Inaugural Capricornia Award for Best Short Documentary at the Darwin International Film Festival in 2016.
VIEW TRAILER HERE: vimeo.com/376712596
Director, writer Christopher Fitzpatrick
Producer Tanith Glynn-Maloney
Photography, editing Dylan River
Production Manager Kim Steblina
Production Co-ordinator Viviana Petyarre
"Arli theme" by Dylan River
Produced by CAAMA Productions, and commissioned by NITV.
Permalink: https://www.roninfilms.com.au/feature/16588