ANGELS GATHER HERE
Year: 2017
Classification: Exempt - Ronin Recommends: PG
Runtime: 49 min
Produced In: Australia
Directed By: Ian Hamilton
Produced By: Ian Hamilton, Anna Kelly
Language: English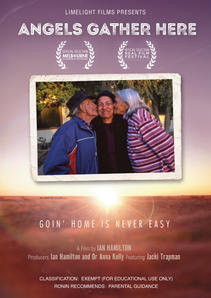 price includes GST and postage

Angels Gather Here follows Jacki Trapman's journey back to her hometown of Brewarrina in the north-west of New South Wales, to celebrate her parents' 60th Wedding Anniversary.
Going home is never easy, and for Jackie it means facing the traumas of her past, her own personal struggles to survive grief, loss and addiction to become the strong university-educated Ngemba woman she is today.
The film provides a unique insight into the lives of one Aboriginal family over five generations and how past government policies continue to impact on Aboriginal people today.
Ultimately the film celebrates the resilience of the Trapman family. Their inspiring story symbolises the strength, dignity and resilience of many Aboriginal people in the face of adversity.
Director, Cinematographer, Editor - Ian Hamilton
Producers - Ian Hamilton, Dr Anna Kelly
Associate Producer - Jacki Trapman
Co-editors - Jonathan Burrows, Paul McDonald
Consultant Editor - Harriet Clutterbuck
Production Manager - Kate Turnbull
Original Music Score - Nicolette Boaz
Song, "Follow the Sun", written and performed by Xavier Rudd
---
Melbourne Documentary Film Festival: Official Selection
Real Film Festival, Newcastle: Official Selection
---
VIEW THE TRAILER HERE: vimeo.com/280038895
---
Director's Statement
When I first met Jacki Trapman, I was blown away by her blinding honesty. Her dream of sharing her own, very personal struggles and successes in life in the hope of inspiring others was such an amazing vision, that I wanted to be a part of telling her story. And was privileged to do so.
As Jacki introduced me to her family and elderly parents in Brewarrina and I learnt more about her family history, I was struck by the family's dignity, resilience and sense of humour in the face of adversity. I learnt that Bill and Barbara raised nine children on the outskirts of their small country town and battled to survive on the meagre wages paid to Aboriginal shearers. I also learnt something of Barbara's history, stolen at six years of age and taken to the Cootamundra Girls Home before being moved to North Sydney to work as a slave for a doctor and his wife. How she was allowed to return home at the age of 18 where she soon married Bill on the Brewarrina mission. And how they'd survived 60 years of marriage.
I wanted to juxtapose Jacki's parents' amazing achievement of 60 years of marriage with the average life expectancy of Aboriginal and Torres Strait Islander people in Australia.
Through Jacki's extended family, I also wanted to explore in human terms how intergenerational trauma continues to have a profound effect on the lives of Aboriginal and Torres Strait Islander people as reflected in the third world living standards, the gap in health and education and high incarceration rates.
The ripple effects of government assimilation policies and the trauma of the stolen generations are sobering facts of history, which continue to impact First Nations Peoples.
Knowing some of this history, I find it hard to understand the lack of empathy from some Australians, conservative commentators and politicians who are happy to celebrate Australia Day and ANZAC day but would rather forget the history of Aboriginal people's struggle to survive post colonisation. Australians who make judgements like "Why don't they just get over it" typify the ignorance and racism that still permeates mainstream Australia.
As Jacki explains, "Many non-Aboriginals judge us but they don't want to look at the past and why we sometimes struggle with our lives". I believe if we are to have meaningful reconciliation in this country then we need to own all of our history; the good, the bad and the ugly. It was my intent when making the film to address the ignorance of many Australians who do not look at the past and its' effect on the present.
Collaborating with Jacki on this film has been an amazing learning experience for me and it has been a real privilege to work together. Her bravery in telling her story moved the issue of reconciliation from an intellectual space into the heart and is what makes the film so powerful. Our hope is that the film will add in some positive way to a meaningful discussion, dialogue and reconciliation in this country.
- Ian Hamilton
---
Comments from Brad Webb, CEO of Samaritans:
Watching Angels Gather Here was an incredibly humbling and moving experience. There were a number of poignant scenes in the film, particularly where Jacki said goodbye to Bill and Barb on her return to Newcastle, where you quite simply moved me to tears.
The incredible value of the film lies in its ability to move the issue of reconciliation from an intellectual, head-based space into the heart. Watching the film brought the impact colonisation has had on Aboriginal people into real human terms, and makes it impossible to walk away without feeling an intense need to be a part of reconciliation.
I look forward to sharing this film with others, and reiterate my gratitude to Jacki for sharing her story, and to you and Anna for bringing that story to life.
---
Related files
Permalink: https://www.roninfilms.com.au/feature/15427