DESTINY IN ALICE [from the CAAMA Collection]
Year: 2007
Classification: Exempt - Ronin Recommends: PG
Runtime: 27 min
Produced In: Australia
Directed By: Sonja Dare
Produced By: James Bradley
Language: English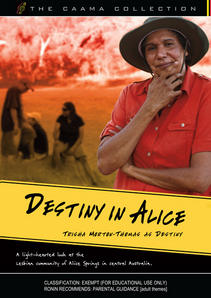 price includes GST and postage

In the heart of central Australia, the town of Alice Springs has become something of a haven for Lesbians – a place where black and white women mix and mingle, confronting the challenges of loving across racial and cultural gaps.
In a delightful parody of a famed TV naturalist, Destiny Attenborough (played by filmmaker Trisha Morton-Thomas) guides us through the habitat and customs of the women who love women in Alice Springs. The origins of the community are traced back to the women's movement against the American base at Pine Gap near Alice Springs in the early 1980s. Three Aboriginal Lesbians provide insight into the complexities of their relationships with other women and with their families.
Satirical and funny, this revealing documentary asks the question: is it hard to sustain love when racial and cultural differences seem insurmountable?
---
Writer-director - Sonja Dare
Producer - James Bradley
Photography - Joanne Parker
Sound recording - Bella Kenworthy
Editors - Dena Curtis, James Bradley
Music - Peter Kaldor
Production co-ordinator - Rebecca Crossley
Production managers - Barbara Clifford, Brian Scarce
Supervising producer - Catherine Marciniak
Executive producer - Rachel Clements
Permalink: https://www.roninfilms.com.au/feature/3325