MICK'S GIFT (Family Foibles)
Year: 2001
Classification: Exempt - Ronin Recommends: G
Runtime: 27 min
Produced In: Australia
Directed By: Celeste Geer
Produced By: Steve Thomas
Language: English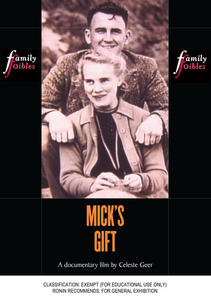 price includes GST and postage

Family Foibles is a series of five half-hour documentaries that examine contemporary Australian families. Each story revolves around a family confronting a problem. These range from the relatively benign issue of omission in the telling of a family history to domestic violence and the threat of family break-up.
MICK'S GIFT
The late Mick Hudson was an adventurer, inventor and 16mm film addict who seems to be remembered differently by everyone.
Celeste's memories of her grandfather Mick are the idealised memories of childhood. She has inherited the filmmaking bug from Mick whose lost footage of New York, Papua New Guinea and Melbourne in the 1940s and 1950s she recently discovered.
As Celeste sets out to find the 'real' Mick through his film footage and the memories of her family, less glamourous and sometimes contradictory images emerge which lead us to question the way family memories get tailored for the consumption of future generations.
The other 4 episodes in the FAMILY FOIBLES series are: KIM & HARLEY & THE KIDS, MY MOTHER NANCY, THE WOODCUTTER'S SON and UPSTAIRS DOWNSTAIRS.
Related files
Permalink: https://www.roninfilms.com.au/feature/627