MEMORY TREE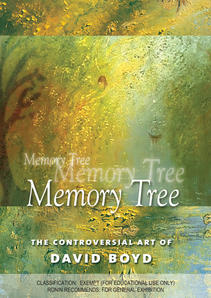 price includes GST and postage

David Boyd was born in 1924. His mother and father were both famous artists. They were also complex human beings who had a profound effect on David's imagery and his remarkable skills as both a potter and a painter.
Layer by layer, the film reveals the secrets of the art of David Boyd. It explains his unique language of symbols and how they came into being. It follows the development of both his paintings and his own humanity as he evokes the potent imagery of his series, The Explorers, The Tasmanians, The Trial, Church and State and other collections which chart his continuing fight against injustice in the world. The film shows many of Boyd's works not previously exhibited. The Australian and European settings and the history of his paintings are depicted through imaginative montage and archival film.
MEMORY TREE reveals the thinking and working of a powerful and controversial artist. We discover the energy at the heart of a man who continues to give us images for our time.
Permalink: https://www.roninfilms.com.au/feature/546