HOPE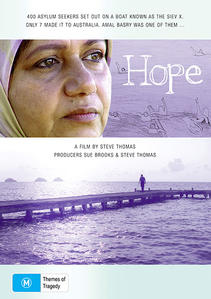 price includes GST and postage

In 2001, Amal Basry watched "Titanic" at a cinema in Baghdad the night before she fled Iraq. 18 months later she was on a people smuggling boat which sank between Indonesia and Australia. Amal survived by clinging for 22 hours to the floating body of a dead woman. Now Amal fights to ensure that the disaster is not forgotten, to reunite her family and "to find what it was I lost in the ocean" ...
"HOPE is an inspiration to all who wish for the better treatment of refugees."
- Julian Burnside QC.
"Some stories shake a nation, others slip away. The lives of 353 people on board the SIEV X - mostly women and children - were lost. It was the largest maritime disaster in our region since World War II and yet the fate of these people barely disturbed the life of the country they were aspiring to join." - Katherine Kizilos, The Age.
"A tender tale of how dreams of a better future can overcome the nightmares of the past." - Herald Sun.
DVD SPECIAL FEATURES
• Extra Scenes and Interviews
• In Memory of the SIEV X
• Trailer
---
WINNER - BEST DOCUMENTARY: SOCIAL & POLITICAL ISSUES - ATOM AWARDS
FINALIST - BEST FEATURE DOCUMENTARY - AUSTRALIAN DIRECTORS GUILD AWARDS
SHORTLISTED - TELEVISION CATEGORY - AUSTRALIAN HUMAN RIGHTS COMMISSION AWARDS
---
Related files
Permalink: https://www.roninfilms.com.au/feature/13797