INHERITANCE
Year: 2003
Classification: Exempt - Ronin Recommends: G
Runtime: 52 min
Produced In: Australia
Directed By: Peter Hegedus
Produced By: Peter Hegedus
Language: English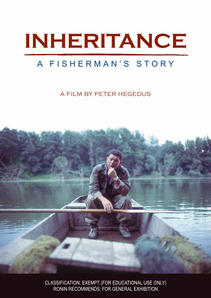 price includes GST and postage

In the year 2000, the Hungarian river, Tisza, is flooded with tons of cyanide from an Australian-Romanian gold mine in Baia Mare, Romania. The poisonous chemical causes an environmental disaster, killing over 1200 tons of fish and devastating the river's eco-system.
With only minimal support from the government, fishermen along the river like Balazs Meszaros, struggle to survive. The Fishing Co-op is losing profit and is on the verge of bankruptcy. In an effort to preserve the memory of an ancient way of life, Balazs starts writing a book titled My Inheritance. In it, he tells the world about his life as a fisherman, the devastation after the disaster and his struggle to survive. Since the disaster Balazs is also unable to provide for his fiancée, Edit, and as a consequence, their relationship is failing.
Balazs travels to Romania to investigate the origins of the disaster. He wants to see where the cyanide actually came from and whether incidents like this are likely to occur again. After his visit, Balazs concludes that a similar disaster could easily occur again.
In a turn of events, Balazs is elected the President of the Fishing Co-op. He is now responsible for over 60 fishermen and has the difficult task of leading the organisation through the hardest times it has ever faced. In this hopelessness, Balazs decides to travel to Australia to meet with the mining company responsible, to discuss compensation and present them with the human tragedy at hand. He must save his people and preserve a way of life.
"As a filmmaker, I seem to pursue the idea that there is no such thing as 'good' and 'bad'. I think people make mistakes and can also be ignorant but very rarely can people be evil. So I tried to project this point of view in my film." - Peter Hegedus.
WINNER! BEST SOCIAL DOCUMENTARY, Hungarian Film Festival.
WINNER! BEST YOUNG DOCUMENTARIAN, Hungarian Film Critics.
WINNER! FIRST PRIZE, Global Peace Film Festival, USA.
WINNER! SPECIAL JURY PRIZE, International Scientific Festival.
SHORTLISTED FOR THE 2004 ACADEMY AWARDS.
WINNER of the ACMI Award for Best Feature Documentary in REAL: life on film 2004 (REAL: life on film is "dedicated to screening innovative, engaging local and international documentary films that address diverse and challenging subjects and present alternative visions of the world we live in").
Related files
Permalink: https://www.roninfilms.com.au/feature/714