KIM & HARLEY & THE KIDS (Family Foibles)
Year: 2001
Classification: Exempt - Ronin Recommends: M
Runtime: 27 min
Produced In: Australia
Directed By: Katrina Sawyer
Produced By: Steve Thomas
Language: English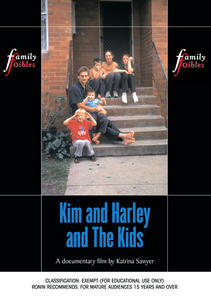 price includes GST and postage

Family Foibles is a series of five half-hour documentaries that examine contemporary Australian families. Each story revolves around a family confronting a problem. These range from the relatively benign issue of omission in the telling of a family history to domestic violence and the threat of family break-up.
KIM & HARLEY AND & KIDS
Kim and Harley are determinedly keeping their family together against the odds. They live in a Ministry of Housing estate with their four little girls, including 12-year old Gabby, the eldest.
The family show great resourcefulness and humour in surviving below the poverty line but Kim suffers from hepatitis C and this added complication makes it hard for Harley to hold down a regular job.
Sometimes the pressures of life become too much and the family threatens to fall apart as their frustrations turn inward.
This confronting portrait of a family with no support confounds all simplistic explanations of poverty.
The other 4 episodes in the FAMILY FOIBLES series are: MICK'S GIFT, MY MOTHER NANCY, THE WOODCUTTER'S SON and UPSTAIRS DOWNSTAIRS.
Related files
Permalink: https://www.roninfilms.com.au/feature/622