IRAQ, MY COUNTRY
Year: 2005
Classification: Exempt - Ronin Recommends: PG
Runtime: 52 min
Directed By: Hadi Mahood
Produced By: Philippa Campey
Language: English subtitles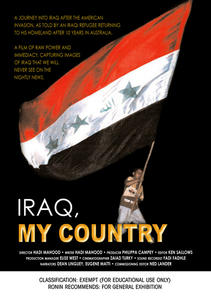 price includes GST and postage

A journey into Iraq after the American invasion, as told by an Iraqi refugee returning to his homeland after 10 years in Australia. A film of raw power and immediacy, capturing images of Iraq that we will never see on the nightly news.
Hadi Mahood has been living in Melbourne, having fled Iraq in the first Iraq war, a refugee from Samawa in Iraq's Shiite south. Watching the news broadcasts in Australia about the war in his country, he has many unanswered questions about the war and decides to return to the city of his birth,filming his journey and the many encounters he has along the way. Flying into Baghdad is too dangerous, so Hadi lands in Kuwait and then makes a six hour trip by road. He is greeted at the Kuwait/Iraq border by his brothers and by corrupt border guards jokingly asking for 'donations'.
We learn a little about Hadi's background as he travels around Samawa. Many years ago, he was an art teacher. (The Americans have bombed the school where he once worked because Saddam Hussein stored weapons there.) He was imprisoned in 1988 for refusing to attend Saddam Hussein's student training camps and fight in the Iraq/Iran War. After his release, he was then forced to join the army for a year.
From everything we see in Iraq, My Country, this is clearly a place of chaos. While Hadi interviews a man about his experience of torture under Saddam, bombs go off at the Police Department where Hadi's brother works. The footage has a sense of raw and powerful immediacy, capturing aspects of the conflict we are unlikely to see on the nightly news. This is a land of date palms, goats, skinny, yapping dogs, mounds of rubble and bomb-wrecked buildings, policemen hiding behind black balaclavas, and guns, guns, guns. Through it all, the film is informed by Hadi's empathy for his countrymen and his desperate hope that somehow his homeland can steer its path to some sort of peace and prosperity.
---
Follow this link to view a trailer of this title along with others for use in support of overseas aid programmes: www.youtube.com/watch?v=hl1yF7wgcL4
---
Related files
Permalink: https://www.roninfilms.com.au/feature/436