CRACKS IN THE MASK
Year: 1997
Classification: G
Runtime: 56 min
Produced In: Australia
Directed By: Frances Calvert
Produced By: Frances Calvert, Lindsey Merrison
Language: English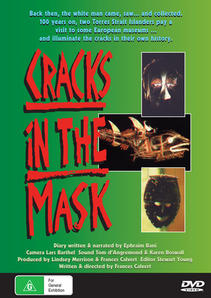 price includes GST and postage

Over the last 100 years, the Torres Strait Islanders in far north Australia have been the subject of many anthropological expeditions. The resulting depletion of their cultural artefacts has left them with nothing but a history of remembered loss. The only people in the Pacific to make elaborate turtleshell masks have none left; all their material culture now resides in foreign museums.
In a quest to reclaim the past, Ephraim Bani, a wise and knowledgeable Torres Strait Islander , travels with his wife to the great museums of Europe where his heritage lies. Ephraim unburdens himself to his diary in moments of poignant revelation: the artefacts made by his ancestors have undergone a transformation as museum displays. When Ephraim asks for the return of some objects, the resulting debate exposes wider questions about contemporary museum culture as well as the complexity of international and Indigenous politics. They thought it would be easy to talk to the curators about the restitution of some objects; but to his mind, museums were in competition with each other to own the greatest treasures.
As the title suggests, even the thickest of masks can crack when the original owners come to visit.
"A treasure trove of superbly photographed Torres Strait pieces. But these, impressive as they may be, are incidental. The lasting impression is one of separation and loss of a people and its past... A film which questions the very idea of a museum and shows how troubled many museum curators are about their role today."- Oceanic Art Society Newsletter
"Fills in some of the gaps in Torres Strait Island history, and, at the same time, exposes the cracks in the current collection policies of some of Europe's museums."- Aerial
"Reveals a story about museums and about objects - about what museums do and about their rationale for continuing to hold such objects, and about the meaning of these objects for Torres Strait Islanders today... A moving, often poignant representation of issues surrounding the return of such collections to the descendants of their original owners. The discussions about the relationship between objects, culture, memory, history, identity, and cultural reclamation all converge to provoke reflection and thought about these issues."- Martin Nakata, University of South Australia, for The Contemporary Pacific.
Audience Award and Honorable Mention, EthnoFilmFest, Berlin 1997
Estonian National Museum's Prize for Best Film, Pärnu Film Festival 1998
Margaret Mead Film Festival
Permalink: https://www.roninfilms.com.au/feature/800