Frances Calvert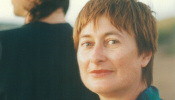 Frances Calvert graduated from Sydney University and began film-making when she teamed up with British producer-director Lindsey Merrison in 1987 in Berlin and made TALKING BROKEN, her first film. Frances established a production company, Talking Pictures, in Berlin with the aim of making films with an Australian connection for German and English-speaking foreign markets.
A lecturer in Media and Cultural Studies (Film & TV) at Potsdam University, Frances Calvert also taught students of production at the HFF Film School in Babelsberg. She acted as a mentor to young film-makers and students broaching their first film.
After extensive travels in South-East Asia, India, the Middle East, Africa and Europe, Frances Calvert returned to Australia to train as a teacher. Curiosity about the Torres Strait Islanders, Australia's 'other' Indigenous minority, took her on the first of many trips to northern Queensland and Torres Strait. She established ties of friendship and trust with the TSI community and was permitted to film on the island reserves.
Over her years of involvement with Torres Stair communities, islanders of all ages and backgrounds expressed their satisfaction with her work and her non-Eurocentric approach to filming. Today her films still run in a loop in the Cultural Centre on Thursday Island. She immortalised such charismatic characters as Chairman Mau and Ephraim Bani, eloquent and knowledgeable cultural custodians who also possessed a fine sense of humour and a keen understanding of how to grapple with the powers-that-be.
Calvert made three documentaries there: TALKING BROKEN - A Portrait of the Torres Strait Islanders (1990), CRACKS IN THE MASK (1997) and THE TOMBSTONE OPENING (2012).
Frances was also Associate Producer on Lindsey Merrison's 35mm feature-length documentary OUR BURMESE DAYS (1995) and the award-winning FRIENDS IN HIGH PLACES (2001). Both films ran in Berlin cinemas before being broadcast on television.
Frances died unexpectedly in Sydney on 2 September 2018, while visiting Australia from her home in Berlin, after completing an annual teaching commitment at the Yangon Film School in Myanmar.
Her most ambitious project, to be called BUENA VISTA AUSTRALIA, had been developed to an advanced stage. This proposed documentary focussed on the explorations by Luis Váez de Torres, the first European to navigate the Torres Strait in the early 1600s. Frances had secured Spanish backing for the film but lack of finance in Australia had stalled the project.
The following tribute was posted on FaceBook by the Yangon Film School in Myanmar on 6 September 2018:
"Yangon Film School is deeply saddened to receive the news of the unexpected passing in Sydney, Australia of Frances Calvert, long-standing YFS tutor of the course Ways of Seeing: A History of Film Form.
"In her own documentaries, Frances chose to shine a light on the colonial past and ambivalent present of the Torres Strait Islanders in Australia's far north, but she had an encyclopaedic knowledge of many different film genres and forms from all around the world. Her passion for the art of film knew no bounds.
"As anyone who attended her classes at YFS or at the Goethe Institute in Yangon will know, Frances was not only an exceptionally knowledgeable teacher but someone who exuded genuine warmth and a natural ability to inform her teaching with a unique sense of humour and love of life."
--------------------------------------------------------------------------------------
"In addition the three films that Frances made in the Torres Strait, there were others that were not made, and to which she devoted many months and sometimes years of research and development. In particular her last unmade film, called BUENA VISTA AUSTRALIA, I believe would have been her crowning achievement in the Torres Strait. She had developed the film to a very advanced degree, and had found financial and creative support in Spain, but ultimately could not find the financial backing she needed from Australia, and the project could not move ahead. It was to have been a bold, innovative film about the exploration of the Torres Strait by Torres himself in 1606. Reading the project outline, one can see Frances's qualities there – intellectual curiosity, down to earth pragmatism in film production terms, and a strong sense of outreach in terms of the audiences she wanted to reach. One section of the immaculate pitch document carries this remarkable heading which I've never seen before in 40 years of reading pitch documents. It reads: "The Philosophical ad spiritual uses of this film." That Frances would want to talk about her work in this way to investors and arts bureaucrats and TV broadcasters tells us a great deal about her and her exceptional approach to her art."
- Andrew Pike
Filmography
| | |
| --- | --- |
| | The Torres Strait Islanders are Australia's 'other' Indigenous minority. They remained virtually unknown until 1988 when they made their brief claim for independence... |
| | Over the last 100 years, the Torres Strait Islanders in far north Australia have been the subject of many anthropological expeditions... |
| | "Touching and informative ... a fine, accessible production that clearly illustrates the coexistence of the past and present, the traditional and the modern, the indigenous and the introduced ... |