FAHIMEH'S STORY
Year: 2004
Classification: Exempt - Ronin Recommends: G
Runtime: 83 min
Produced In: Australia
Directed By: Faramarz K-Rahber
Produced By: Ian Lang
Language: English
Website: faraway.com.au/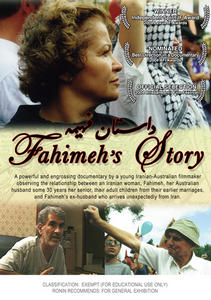 price includes GST and postage

Fahimeh's Story is an observational documentary about a vivacious 47 year old Iranian woman who migrated with her children to Australia after fleeing an unhappy, arranged marriage to a husband who she could not divorce under Iranian law.
Five years on she has fallen in love with and married John, a 77 year old Australian ex-army officer and RSL member.
John is now converting to Islam in order to better relate to his young wife.
Both John's and Fahimeh's children are unhappy about the marriage.
A few months later, Hossain, the Iranian ex-husband, arrives in Australia looking forward to seeing his wife and family again.
He does not know his wife has remarried....
"A triumph" - Evan Williams, The Australian.
WINNER! Independent Spirit IF Award, 2004 Lexus IF Awards.
OFFICIAL SELECTION! 2004 Brisbane International Film Festival.
NOMINATED! Best Direction in a Documentary, 2004 AFI Awards.
Related files
Permalink: https://www.roninfilms.com.au/feature/631