EIGHT LADIES [from the CAAMA Collection]
Year: 2010
Classification: Exempt - Ronin Recommends: G
Runtime: 22 min
Produced In: Australia
Directed By: Dena Curtis
Produced By: Tanya Fraser
Language: Alyawarr language [English subtitles]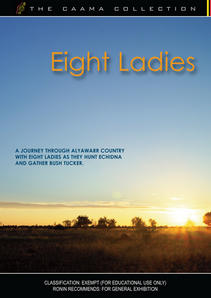 price includes GST and postage

The eight ladies in this film come from Alyawarr Country in the Sandover River region in central Australia, about 250km north of Alice Springs. The filmmakers joined them on a five-day journey into the bush to hunt echidna and gather bush foods such as the bush potato. As they hunt and gather, and as they sit around their campfire at night preparing the food, they talk about the old days and how life has changed.
Filmed in observational style, this gentle and reflective film is a moving revelation of the women's sense of relaxed oneness with their Country and their sense of maintaining a lifestyle from the old days before white man came.
Looking for animal tracks, working together to dig out an echidna from underneath an ant hill, finding bush potatoes, and then cooking their food – all of these activities build a rich and visually beautiful portrait of a way of life and of eight women who share the work and the rewards.
EIGHT LADIES is a delightful film by Dena Curtis who has edited many CAAMA documentaries, and all too rarely makes her own films.
---
With Mavis Young, Mary Morton, Pansy McLeod, Lena Skinner, Rosie Ngwarreye, Jeannie Pula, Judy Purvis, Katie Morton, Lucky Morton, Dorothy Kunoth, Patsy Kemarra (Patsy Long).
Director - Dena Curtis
Photography - Nicola Daley
Editor - Tania Nehme
Sound recordists - Biannca Hoolihan & Dena Curtis
Production assistants - Biannca Hoolihan & Kathryn Gilbey
Composer - Warren H. Williams
Series producer - Tanya Fraser
Executive producer - Ray Lillis
Narrator - Anita Bailey
A CAAMA Production for Imparja TV, in the Nganampa Anwernekenhe series
Principal investor: Screen Australia
---
OFFICIAL SELECTION - 2011 Dungog Film Festival
---
Follow this link to view a trailer that includes this title and other CAAMA titles: www.youtube.com/watch?v=TnQTe35Fm6o
Related files
Permalink: https://www.roninfilms.com.au/feature/4581