FINDING PLACE [from the CAAMA Collection]
Year: 2007
Classification: Exempt - Ronin Recommends: G
Runtime: 22 min
Produced In: Australia
Directed By: Trisha Morton-Thomas
Produced By: Barbara Clifford
Language: English and Anmatjere language with English subtitles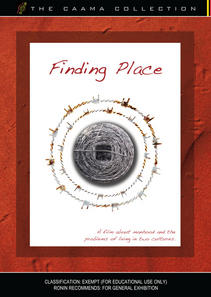 price includes GST and postage

In traditional Aboriginal societies, the concept of manhood is very different from the way it is normally viewed in mainstream white society. Within the white community, boys are not legally considered men until they turn 18 years of age, and adult status is often determined by work and pay packets.
In this film, four Aboriginal men from the Alice Springs region, and one initiated white man, talk about the importance to them of the 'bush camp' when they were initiated into manhood according to traditional Aboriginal law. In most Aboriginal communities, boys aged between 11 and 16 are taken away from their mothers for initiation into manhood through a series of secret ceremonies, song and dance. When they return from 'bush camp', they are considered men with all the rights, responsibilities and respect associated with that position.
The film looks at role models and the responsibilities associated with manhood, including looking after family and learning culture. It also looks at the difficulties of city life and the degrading effects of alcohol, unemployment and social dislocation: how do young Aboriginal men act like adults when mainstream society still insists they are boys and their role models often seem just as lost as they are. How do they find their place when they are torn between two very different cultures?
---
Featuring Stefan Dick, Peter Bartlett, Micha Bartlett, Tommy Morton and Joshua Morton.
Director - Trisha Morton-Thomas
Editor - Dena Curtis
Photography - Jason Ramp & Robyn Nardoo
Sound Recording - Dena Curtis & Robyn Nardoo
Music - Warren H. Williams
Translations - Patsy Morton
Series Producer - Barbara Clifford
Executive Producer - Rachel Clements
Permalink: https://www.roninfilms.com.au/feature/2886