BIG GIRLS DON'T CRY (NIDF series 5)
Year: 2002
Classification: Exempt - Ronin Recommends: PG
Runtime: 26 min
Produced In: Australia
Directed By: Darrin Ballangarry
Produced By: Priscilla Collins
Language: English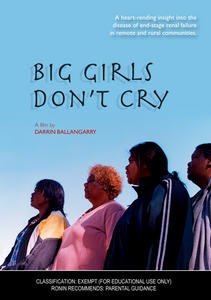 price includes GST and postage

BIG GIRL'S DON'T CRY is about the strength and resilience of three people and their families coping with end-stage renal failure.
Mariah Swan (from Moree) gets a kidney transplant at 18 months of age and now we visit her when she is 10 years old.
Glenda Kerinuaia (from Bathurst Island) chooses to self-administer Peritoneal Dialysis so that she can participate in the cultural and family life of Tiwi Island.
Essie Coffey OAM (from Brewarrina) speaks poignantly of the hardship associated with Haemodialysis. Essie tells us of her cultural dilemma in receiving a kidney transplant. Eventually with her weakened immune system, the common cold claimed her life.
Renal physicians tell us what it means for Indigenous Australians living with debilitating renal disease in remote and rural communities.
This film is a part of the 'National Indigenous Documentary Fund Series 5'. Other titles in this series are: NGANGKARI, ME AND YOU, THE FOUNDATION & WE OF LITTLE VOICE.
Permalink: https://www.roninfilms.com.au/feature/510