THREE BOYS DREAMING
Year: 2011
Classification: Exempt - Ronin Recommends: PG
Runtime: 85 min
Produced In: Australia
Directed By: Michael Cordell
Produced By: Michael Cordell
Language: English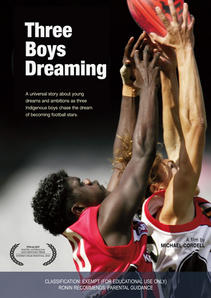 price includes GST and postage

THREE BOYS DREAMING follows three Indigenous boys over four years as they chase the dream of becoming professional AFL footballers. At stake is fame, prestige and a starting salary of $150,000 a year.
The film begins with the inaugural "Kickstart Camp" in Melbourne. The cream of young Indigenous players from around Australia are brought together for a week-long talent camp where they get a sometimes brutal taste of what it takes to become an AFL star. Cathy Freeman and Michael Long tell them how to behave if they expect to be drafted by a club paying them a small fortune.
Among the boys is Daniel Jago, a good-natured 15 year-old from Smithton in the remote north-west of Tasmania. It is his first trip to Melbourne and the first time he's been on a plane.
Daen Lomas, from Sydney's West, also commands attention. Of all the boys at the camp his cheeky confidence and mischievous grin stand out. He has the skills and the ambition, but against him is a difficult family life with an absent father battling heroin addiction.
The dark horse is Perth boy, Chris Yarran. He is so shy he barely says a word, even to other boys at camp. His father is serving a lengthy prison sentence and perhaps it is this, or some other sense of insecurity, that keeps him hiding under the peak of his cap. But when he plays footy, he comes alive.
Under the glare of coaches and recruitment managers each of the boys has a chequered pathway, but it is the boys' emotional journey that is most captivating. One boy grapples with the death of his father and faces criminal charges for an assault. Another is beset with a more common affliction – an unwillingness to do the hard work required to succeed. The third boy has a steely determination, makes it all the way into the AFL and is recruited by the Carlton Football Club. He kicks a goal in his very first senior game.
Much more than a film about sport, this is a universal film about dreams and ambition, and what happens when life gets in the way. It is an outstanding successor to Cordell's acclaimed documentary YEAR OF THE DOGS (also available from Ronin), tracking a year in the life of a struggling football club.
Related files
Permalink: https://www.roninfilms.com.au/feature/5102