TENDER HOOKS
Year: 1988
Classification: M
Runtime: 95 min
Produced In: Australia
Directed By: Mary Callaghan
Produced By: Chris Oliver
Language: English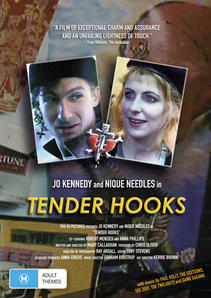 price includes GST and postage

A bold debut feature by Wollongong filmmaker, Mary Callaghan: a new wave, pop cult, love story set in Sydney, starring Jo Kennedy and Nique Needles. When two young lovers discover their love has become an obsession, contact becomes a matter of survival.
Mitchell (Jo Kennedy) leaves the comfort of suburban bliss convinced that no-one can assess life who has not experienced it first-hand. Clear about what is not appropriate for her, she is searching for what is: a choice. She takes a job at an inner-city hair salon and a room in a nearby boarding house. Here she meets Gaye, who lives on love and spurts on her asthma inhaler. Through a quirk of fate she meets Rex (Nique Needles) in the hall with not much on but the imprint of a boot on his behind. She takes him in, captivated by his smile. They warm to one another at once. Rex appreciates Mitchell's style and is impossible to ignore. The drawback is he comes fully loaded: Mitchell discovers that where Rex is trouble follows close behind. He is not so much a criminal as he is loyal to his off-beat mates - he is unable to say no. His pride forbids him to turn down a mate; he goes from one favour to the next, and he loses out every time. He hopes his late-night vigils and bounty of gifts will keep Mitchell agreeable. What he knows about love, romance and caring he has borrowed from pop songs, bubble-gum wrappers, tattoos and bus shelters. When Rex is arrested, after one favour too many, he and Mitch are forced to re-evaluate their relationship and take their bearings.
Mary Callaghan's first feature is an edgy inner-city romance full of unexpected pleasures and featuring a marvellous central performance by Jo Kennedy.
Permalink: https://www.roninfilms.com.au/feature/460