PASSIONATE APPRENTICES, THE
Year: 2008
Classification: Exempt - Ronin Recommends: G
Runtime: 75 min
Produced In: Australia
Directed By: Roger Scholes
Produced By: Lynda House
Language: English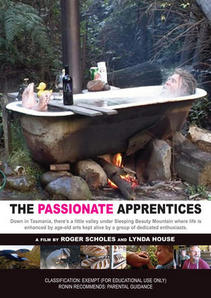 price includes GST and postage

Three intimate portraits of a close-knit group of inspiring people who share a passion for perfection. These three artisans and their apprentices live and work in a quiet valley in Tasmania, in the shadow of Sleeping Beauty Mountain, keeping age-old arts kept alive.
John the Knifemaker uses stone age techniques to forge blades from recycled steel. With handles made from antler or bone, and sheaths crafted from local timbers, they're sought after by world-class chefs, local hunters and household-cooks alike. But getting hold of one is not just a matter of money. John prefers trading to selling - swapping a blade for a side of venison, a cheese, or a case of wine. After 25 years of trial and error, John is now sharing the secrets of folding Damascus steel with two boys from the Valley. Long hours are spent learning how to hammer molten steel, and grind metal into sharp edges. It's a serious business, and the boys take in every word that their master offers them – whether it be about working metal or playing with fire - or just life...
Not far away, Yves the Beekeeper prepares fine honeys using traditional methods he learnt in his French homeland. Now, here in Tasmania, Yves has found the source of the finest honey he's ever tasted – a white honey collected from late-blooming heather in the highlands. He plans to build new hives and take his bees up for the winter flowering. Yves' apprentice is his nine year old daughter Marlin. Through her eyes, the complex mysteries of beekeeping – from dipping hives to culling spare Queens - are explored. Father and daughter are joined in their passion for bees by Marlin's schoolteacher, Damon. The three work together, blending and savouring the taste of the rare 'snow honey'.
Their neighbour John the Baker makes some of the best bread in Tasmania. Taking his inspiration from some of the earliest baking techniques, he uses ingredients like sprouted wheat and spelt flour. Every Saturday, along with three of his five children, he rises before dawn and drives into Hobart to sell his loaves at an outdoor market stall. Stock soon runs out. But John isn't content to settle for what he can already do well. With his fellow baker, Shannon, he builds a wood-fired oven, so that his bread can taste even better.
---
"You get the message that joy abounds in John's valley, and there's more, all of it good in this series." - Weekend Australian.
"A beautifully shot documentary ... make yourself a cuppa, throw on some toast and immerse yourself in a Tasmanian Idyll." - The Age Green Guide.
"An intimate portrayal of the daily lives, motivation and passion of a knifemaker, a baker and a beekeeper - 90 minutes of inspiration and hope. I couldn't think of a more real way to show that beauty still exists and it can be a way of living in the world." - Tasmanian Times.
"Gives you a heartwarming, almost fairytale sense of hope - perhaps because we recognise human qualities that are basic, affirming and increasingly rare in today's world." - Tasmanian Life.
"PICKS OF THE DAY - 5 out of 5 - 'simple, unpolished and beautifully in keeping with the old-world concept of apprenticeship." - Time Out.
"Slow down a little and see how people take charge of their destiny in one of Australia's most beautiful places." - Weekend Australian.
"Engaging, gently life-affirming stuff." - Sydney Morning Herald.
"It's not often you see positive stories about the youth of today on TV, but this interesting and refreshing series shows there are plenty of young ones doing remarkable things." - TV Highlight, Sun Herald.
"This is reassuring stuff - not just a feelgood or seachange story. These docos are about basic survival skills - the tools and attitude necessary for them to sustain." - Sydney Morning Herald.
"This new 3 part series is such a joy to watch - we see the dignity of work and the value of true community." - Canberra Times.
CRITICS CHOICE - The Age Green Guide
DAY PICK - TV GUIDE - The Mercury
CRITICS CHOICE - Sunday Age
TV PICK - Graeme Blundell, Weekend Australian
PICK OF THE DAY - Canberra Times
THE DAY'S CHOICE - CENTRALIAN ADVOCATE
TV PICK - GOLD COAST BULLETIN
THE WEEK'S TV HIGHLIGHT - OBSERVER
Related files
Permalink: https://www.roninfilms.com.au/feature/802